How an Ordinary Woman Found an Easy Way to Think Positive
**Inside: An Easy Way to Think Positive: The Inspirational Story of the company, Notes to Self
This page may contain advertisements or affiliates, which may allow me to take home a small amount of income at no additional cost to you. For more information, go here.
Socks. We wear, wash, and lose them every day.
I salvage random socks from every nook and cranny of my house, car, and even my yard.
Socks are an ordinary and boring necessity of life. If I don't force my kids to wear socks, their foot odor seeps into my nostrils.
Socks keep your feet warm on a cold winter day
Become comedic sock puppets when you need a giggle
And allow you to dance down the hall Michael Jackson style.
But can something so mundane really be made extraordinary?
For Laura Schmidt they can.
Laura founded the company, Notes to Self, to share her belief in the power of positive thinking.
The mind is everything. What you think you become.

Buddha: For more positive quotes go

HERE

.
Laura's Story:
Laura's story began while looking at her feet during a car trip. She was reading a book on positive thinking when she stopped and turned to her husband and stated,
"I think I'm going to put positive affirmations on the toes of socks!"
While statements on socks are not a new invention, Laura's socks do more than cover your feet, remind you to get a glass of wine or state you love dogs.
While a place for all socks exists, Laura takes it a step further. She makes something as ordinary as socks powerful.
And that is part of the genius and amazement of it all.
You most likely wear socks every day, so if you had positive affirmation socks, you could start and end your day with positive thinking.
And lets face it, what goes in, does come out. Eventually…
Finally, brothers and sisters, whatever is true, whatever is noble, whatever is right, whatever is pure, whatever is lovely, whatever is admirable—if anything is excellent or praiseworthy—think about such things.

Philippians 4:8 (NIV)
Positivity is more than seeing the world through rose-colored glasses. A positive mindset includes:
Surrounding yourself with good things and people
Believing we can do hard things
And choosing to be better versions of who we already are.
When I first heard Laura's story on the podcast, Duct Tape Marketing,
I felt like I was having a cup of iced coffee with her on my back deck with a slight summer breeze lifting the sweat off our brows.
Her passion and love shined through the speakers in my car. Loud and clear.
In addition, some of the testimonies she shared filled my eyes with pools of water.
You can read more testimonies HERE, but I wanted to share a couple of my personal favorites:
Warning: You may be crying happy tears before the page is up.
**The following quotes come from the Notes to Self Website.
"I am a clinical social worker and I work specifically in the field of Youth Suicide Prevention.

I have the privilege of teaching a Health curriculum in Middle Schools and High Schools called "SOS-Signs of Suicide."

As part of the interactive portion of the lesson, I actually talk about positive affirmations and reveal my notes to self® socks that I am wearing that day to the class.

Thank you for making this fun product that I get to share in my work every day with youth.

I have the following socks and students love them:

I am awesome, I am amazing, I am strong, I am courageous, I am smart, I am beautiful, I am joyful, I am happy, I am confident.

National Suicide Lifeline: 1-800-273-TALK. There is hope. There is help." – Sincerely, Leigh A. Reposa, LICSW
And this one!
Hi, Notes To Self! I wanted to write to you to tell you how much your socks mean to me!

The positive affirmations are a nice touch to help me through my day!

My mom bought me a pair that says I am a great mom. She gave them to me last Mother's Day.

I can't tell you how much it meant to me. (I am crying while writing this to you.) It couldn't have come at a better time.

I just had my first child and instead of getting to nest, I was moving to a new town and would be starting a new job.

When I had to go back to work and leave my daughter for the first time, I HAD to wear these socks to remind myself I was still being a great mom even though I was leaving my daughter to go to work.

It was very hard for me but these socks got me through my day until I could get back to her!

I am getting these for all my friends this year for the holidays and wanted to thank you for making these socks! Something so simple that really meant the world to me! Thank you – Kathryn
While you may think your life is ordinary,
You can find extraordinary beauty and strength in the most ordinary of things and the most ordinary of lives.
And may these ordinary socks remind you there's no one else in the world like you.
God made you just the way you. And nothing God makes can be called ordinary.
Even more reasons to love Laura:
As if the socks weren't enough, here are 4 more reasons to love Laura and support Notes to Self.
1. Integrity:
Even though she has received requests from phrases not aligned with her mission, instead of making a quick buck, she chooses to turn down certain requests. (P.S. Per the podcast, she is not set up for custom sayings right now though you can recommend suggestions for future endeavors)
2.Local:
All socks are made in the USA. While I'm not saying you have to buy everything from the USA, my heart does leap a little more when I know something is made locally.
3. Giving Back
Notes to Self donates to women's shelters, homeless shelters, and others in need. Can you imagine how amazing it would be if every person going through a rough time had a gift of positive affirmation socks?
4. Great gifts
What a great idea for just about anybody in your life! We could all use a little more positivity.
And ready or not, the holidays are right around the corner! (For the record, I'm never ready for the holidays. :))
So, whether you choose one of the following sayings:
I am perfectly me, or
You are a great mom,
Or I am confident
And so much more!
Rest assured you can dance and walk around your house as confident as Michael Jackson.
Looking for more ways to surround your world with the power of positive thinking? Check out these Etsy shops doing just that!
**As an Etsy affiliate, if you click on one of the images below, I may earn a small commission at no extra cost to you.
---
As always, Thanks for Reading! And if you enjoyed this post, I would appreciate your shares on social media.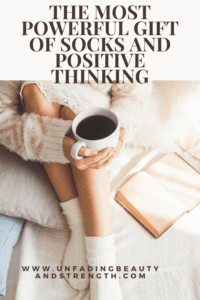 You may also enjoy:
Best Gifts for Your Mom: 17 Unique & Inspiring Ideas (2 from Ukraine)
10 Valuable Valentine Ideas to Really Celebrate All Year
How to Support Small Businesses From Your Couch