Inside: How to get rid of self-doubt: 6 practical tips for when you're feeling down
Self Doubt blocks us from achieving our dreams. And it may even block us from standing up for ourselves, our children, our friends, and our families.
I've been listening to the book Do It Scared**, by Ruth Soukup. In her book, she has researched how people all have different manifestations of fear.
A main fear archetype is, you guessed it, Self Doubt. It is actually one of the most common. How many of you can relate?
I know I can relate.
Many of the thoughts in my head are related to self-doubt.
I'm not capable enough.
Who am I that anybody should listen to me?
I've never done this or that.
And I'm not enough.
"Don't be scared to walk alone. Don't be scared to like it."

John Mayer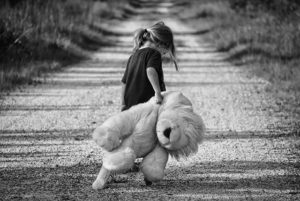 So, a favorite children's book is Jonathan James and the Whatif Monster.*
In the story, Jonathan James, a young boy, has a Whatif monster* telling him he can't do things like climb a tree or run fast enough.
Common things that plague our children and let's be honest, still plague many of us. In the end, Jonathan James* has to demand the monster to stop filling his head with worries and doubts.
For full storytelling from the author herself, go here!
Now, wait just a minute! I have something to say, after hearing 'what ifs' all through the day. I hear all your worries; I hear all your claims. But what if you're wrong?"

Jonathan James and the Whatif Monster, Michelle Nelson-Schmidt*
It is all about our mindset,
If we fill our heads with worry and doubt, then of course that is what is going to happen.
Finally, brothers and sisters, whatever is true, whatever is noble, whatever is right, whatever is pure, whatever is lovely, whatever is admirable–if anything is excellent or praiseworthy– think about such things.

Philippians 4:8
But, here's the thing:
You never know unless you try.
Don't we tell our kids the very same thing? They are watching us closer than we think.
What if you do fall? What if it is a no? The answer is always no unless you ask.
More people are filled with regret that they did not try than when they did go out on a limb, even if the limb cracked or it was not the right tree for them.
The other day, I was reading Acts 3 where the lame man is healed by Peter and John. "Look at us!" it says. The lame man, expecting to be given money, does just what they demand, but what he gets is more than he could ever ask or imagine.
Now to him who is able to do immeasurably more than all we can ask or imagine, according to his power that is at work within us.

Ephesians 3:20
Part of my self-doubt comes from fear. What if my dreams come true, but I can't handle it? Or worse yet, it's no longer what I want.
But you see,
I know I will live in regret if I don't try.
When I doubt myself, am I doubting God? Am I doubting his words that he will give all we can ask or imagine? And In the words of Jan Silvious, do I trust him enough to say "Yes, Lord" when I hear his calling.
Songwriters like Zach Williams inspire us when we doubt.
According to Zach Williams' story, when he finally stopped worrying and gave up his life to God, that is when he received more than he could ever imagine.
Just like the lame man from our story above and Zach Williams' story, our limitations of ourselves is often so small.
Can you believe my beautiful, intelligent six-year-old daughter already thinks she isn't smart?!
She thinks she's pretty, but not smart. That blows my mind! Part of her self doubt comes from the fact that she is my perfection child and she wants to do things right the first time and less to do with extrinsic forces (although with the start of school I'm sure those exist as well), but I never thought she would have to deal with self-doubt at such a young age.
What if instead of limiting ourselves, we dared to kick those nagging self-doubt monsters out?
Get out of your own head!
You have to find what works for you. Because the absolutely wonderful thing about human nature is that we are all uniquely different and wonderful.
However, we can and should learn from each other, and sometimes you just need a little kick-start. Here are six ways that have worked for me or my friends. I hope one will work for you and help you be inspired.
Six Ways to Kick Self-Doubt Out of Your Head!
Actually, say out loud, Get Out of My Head! There's something to say for affirmations.
Call somebody! Sometimes all I need is to talk it out with a friend.
Listen to an encouraging podcast. Ruth Soukup's Do it Scared Podcast is one of my favorites.
Do something active. Nothing clears your head like a good run/hike/swim, etc… Even just stepping on your back porch and doing some jumping jacks can do wonders.
Journaling. Whether it is just for you or you share it, just writing things down helps you look at things more objectively and helps get those worry monsters out of your head.
Finally, Make a plan and write it down. Baby steps. The wall of china was not built in one day and wars are not won overnight. First, focus on what you can do now. I have two kids and I work part-time. So I don't have a bunch of "fringe" time. Some days I may only get to work on my business for thirty minutes, but each step gets you closer to your dreams.
If you feel self-doubt creeping in, take it one step at a time. Before you know it, you may find that you will be at the top of the mountain.
What steps have you found to help you get out of your own head? Can you add to my list?
Oh the places you'll go, Today is your day! Your mountain is waiting. So…Get on your way!

Dr. Seuss**
As always, Thanks for reading! If you enjoyed this post, I would appreciate your shares on social media.
You may also enjoy:
The Most Powerful Gift of Socks and Positive Thinking
A Two Minute Story with Four Powerful God Truths
This page may contain advertisements or affiliates, which may allow me to take home a small amount of income at no additional cost to you. For more information, go here.