We may earn money or products from the companies mentioned in this post.
3 Amazing Websites that Support Small Businesses
Inside: How to Support Small Businesses: 3 Websites that showcase thousands of local businesses, All online!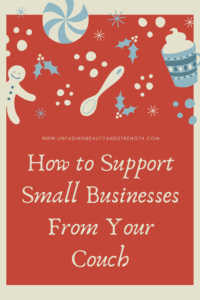 ** As an Amazon Associate I earn from qualifying purchases.
This page may contain advertisements or affiliates, which may allow me to take home a small amount of income at no additional cost to you. For more information, go here.
---
Small businesses are said to be the heartbeat of America. But I'll be the first to admit that Amazon is my go-to. And as my father sometimes says:
Wal-Mart is the place we hate to love.
However,
These days online shopping isn't just for Amazon and the big box stores.
You can find online stores for just about any website or individual. An online platform is vital to sustaining a business these days. I don't know about you, but when I'm looking for something to buy, I scour the internet first.
That being said, I do prefer to support local businesses when I can. Even if you're an online shopper like myself, it can still be done.
Did you know there are several websites that showcase small businesses?
The following are three of my favorite websites that support small businesses:
1.

Etsy

: Almost everybody has heard of

Etsy

. I even have a few personal friends that have an

Etsy

shop.
Below are some of my personal favorites and finds:
Perhaps a lesser-known website, as I still run into people who've never heard of Jane. But almost every time I look at the website, I see some great products, prices, and unique finds.
Jane is a boutique marketplace that allows businesses to market to an already engaged audience. Small businesses provide the products and Jane provides the customers! It's a great way for small businesses, both online and brick and mortar, to reach a larger audience and get their name out there.
With over 2000 sellers represented, you can rest assured that your purchase will support a small business.
Uncommon Goods brings craft shows to your computer screens. Not only do they focus on beautiful, unique, and practical items, but they also take it a step further to showcase the stories behind the products.
I have bought and received some beautiful and unique gifts from Uncommon Goods. Their promise is to provide gifts like none other and I can truly say they follow through.
Items like Mimosa Sugar Cubes, Recycled Glass Tree Globes, and a Pedestal Jewelry Holder are just a few of the handcrafted and amazing items I have given and received over the years and are still my favorites to this day.
I could quickly blow my budget on this shop if I'm not careful.
Please Note:
If you are buying from places that are smaller please allow them more time for shipping, as many of the items are custom made and some businesses are just trying to get their business off the ground.
So, a little extra grace is needed.
Small businesses are made up of your neighbors and friends and they need our support to make it work. In addition, small businesses may not have the luxury of shipping through Amazon yet. (P.S. Did you know Amazon does feature some local shops as well? Look on the sidebar and scroll down to see small businesses showcased.)
Small businesses are made up of your neighbors and friends and they need our support to make it work.
Click To Tweet
What This Post Is Not:
Now, this post is not about the details of selling with online websites, of which I know nothing about. Neither do I know the commissions or percentages these platforms offer. A quick Google search reveals an overwhelming result of different platforms and techniques for selling online products.
My post today is merely meant to showcase a few local businesses that are selling their products in one of the aforementioned ways.
When you know somebody first hand who has a small business, you see immediate results of the importance of supporting small businesses:
A smile on a friend's face when you buy something from them
Food on their children's plates
Or the fact that you can say your item is like none other!
So we don't just need "Small Business Saturday",
We need "All Year Small Business". The entrepreneurial spirit is what this country was built upon, after all.
But sometimes even as much as you want to, you just can't afford all the things. I found the following tips helpful when you just don't have the money to spend:
17 Different Ways to Support Small Businesses in 2020 — Society for Creative Founders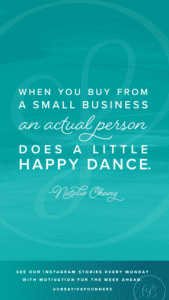 All of this brings me to my point:
You can have the convenience of online shopping and support small businesses at the same time. You can have your cake and eat it too.
It's beginning to look a lot like Christmas! Everywhere you go!
With Christmas hot on our heels, if you haven't finished your shopping (don't worry, you're not alone!), then don't forget to check out some local and small businesses! You will not only bring Christmas to your family, but you will be warming the heart of your neighbor as well.
And the icing on the cake? You'll escape the crowds at the hated but loved Wal-Mart.
You can have the convenience of online shopping and support small businesses at the same time. You can have your cake and eat it too.
Click To Tweet
As always, Thanks for Reading! If you enjoyed this article, I would appreciate your shares on social media.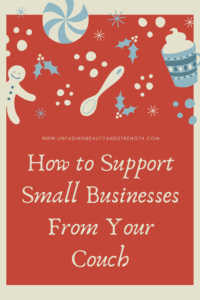 You May Also Enjoy:
Best Gifts for Your Mom: 17 Unique & Inspiring Ideas (2 from Ukraine)
The Most Powerful Gift of Socks and Positive Thinking
Good Fortune Soap: 4 Unexpected Lessons of Boldness
** Article originally published December 10, 2019. UpdatedReviewed November 29, 2021.