A Story of Determination
I love the energy of the city. I love learning about places and people who have made their dreams come true, which is often found in the heart of any city. I love learning the history of places. I love learning about the culture.
This is the story of Good Fortune Soap, and how the owner Jennifer Strain, made her dream come true in the great city of Chattanooga.
City Life:
Right after college, I moved to Nashville. I lived right down the road from the trendy area of "Music Row". It was glorious. In my first apartment, I could walk to work, a Starbucks and several restaurants and boutiques in ten minutes. Needless to say, I was in great health.
My second apartment, though still in the trendy area of "West End", was more of a thirty minute walk to work (which I did on occasion). I loved it even more because it was closer to my favorite coffee shop and I could walk to the grocery store, as long as I only needed to buy what I could carry.
I now live in the great city of Chattanooga.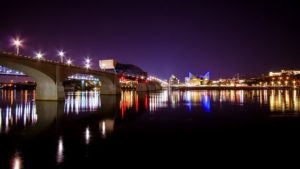 Chattanooga is a city with thriving local culture. There are new restaurants popping up it seems every other day. (I ate at The Mayan Kitchen for the first time the other day! It was delicious!)
The local boutiques and eateries abound in multiple areas of town, such at the NorthShore and the Southside. Since my family lives in the suburbs, I cannot walk to the places anytime I want, but I do occasionally get to enjoy these parts of town.
A Dream Come True:
Here at Unfading Beauty and Strength, I strive to find daily encouragement through many different paths and stories. The stories I love are often about dreams coming true and what many people consider "success". We often see the end result and think, "I could never do that." Seldom do we see the blood and sweat and tears behind success stories.
The owner's, Jennifer, dream came true in 2006, but the story starts way before then. She was a born adventurer and loved creating things as a child. Her first business was started when she was 12, creating custom bracelets. She graduated from college with a degree in Graphic Design, but even with great success she still longed for more.
Before Jennifer left her full time job as a graphic designer, she was confused and wanted more meaning in life. At her turning point she states, "I felt lost, and through the advice of a co-worker was encouraged to pray for wisdom because it was the only thing God promised He would definitely give when we ask." She was encouraged by a co-worker to pray and ask for wisdom.
If any of you lacks wisdom, you should ask God, who gives generously to all without finding faulty and it will be given to you.

James 1:5
Sometimes the answers come unexpectedly.
Knowing she needed to try something different and perhaps just a little bit crazy, Jennifer followed her co-worker's advice and felt led to start making soaps. Jennifer states on her story,
"While lying in bed, praying, and reading a book on soap-making, the Lord spoke to a deep down place inside me. Through faith, I knew instantly that my love of design, photography, and handcrafted things was my calling. With 110% enthusiasm, I followed the plan that God had whispered."
The definition of insanity is doing the same thing over and over, but expecting different results.

Albert Einstein
Through that one crazy prayer and dream, Jennifer was taught to love more like Jesus and to follow her crazy dream. That dream turned to reality with her soap business becoming "successful" within the first year.
It is not enough to just hear a story. I want to learn from the story to become a better version of myself.
Every day is a new opportunity to become a better version of yourself.

Boruch Akbosh
Lesson 1:
When God calls us,it is often not in ways you expect. Sometimes it's through a simple voice in your head and sometimes is a slap in the face.
Lesson 2:
Share God's love with everybody. Where a seed is planted, you never know where it will grow.
Lesson 3:
Everything we do should be for the Lord. I went into nursing because I believed, at the time, it was the best way I could serve God. I wanted to serve like Jesus did and help those who were hurt and needing healing. I now know, from inspiration from Jennifer's story and many like it, you don't have to be a nurse, doctor, therapist, or a teacher, or even a preacher to change people's lives. You can be a housewife, an accountant, a lawyer, and even a graphic designer. God works in amazing ways.
Lesson 4:
Don't be afraid to change direction. I cannot imagine how scary it must have been for Jennifer to quit a full time secure job for a dream and a passion. It is not always easy, and everything does not always work out the way we think. It might just be more than you can imagine.
Change is the only constant.

Heraclitus
Jennifer's story is one of amazement, courage, determination, tenacity, and strength. She most inspires me with her love for Jesus and reaching people through even something so simple as soaps. She sells much more than soap. In addition to soap, she sells, candles, bath bombs, essential oils and more. Even more then the tangible items she sells, is the joy you feel from hearing her story and leaving her store. You come away with a cleansing of the body, mind, and soul.
Do you have a story you want to share? I would love to share you story. Contact me HERE.
What inspires you daily!? Comment below.
Sharing is Caring. Thanks for reading!
** As an Amazon Associate I earn from qualifying purchases.
This page may contain advertisements or affiliates, which may allow me to take home a small amount of income at no additional cost to you. For more information, go here.
***Post Revised on 1/22/2020 by author