**A Mother's Day Gift Guide focusing on gifts for a good cause.
**This is an affiliate post. See my disclosure policy for more details.
When I was a child, we bought gifts, went out to eat, and said I love you, but… Mother's day was basically like any other day…It wasn't a big deal.
Perhaps it should have been…
It is especially important to me now as a mother. Not just because I like to open presents, but I would like my children to learn generosity, joy, and confidence. (To name a few)
I especially love any gift that keeps on giving.
When I look back on my life, the gifts I remember are not usually the most expensive (with the exception of my engagement ring), but they are the gifts that had a little extra something:
A written card from my twelve-year-old niece
A scavenger hunt to find my gift of books
A favorite children's book signed by friends at my baby shower
With those sentiments in mind, I have scoured Etsy in search of gifts with that extra something… Particularly ones that go towards a good cause.
And if you want to use Mother's Day as an excuse to treat yourself, then you will get no shame or judgment from me. Anybody else hide their favorite treats from their kids?
As stated before, some of my favorite gifts are the gifts that keep on giving.
As an extra bonus, I had the honor of receiving a little insight from a few of the shop owners themselves. I asked the following two questions:
What was your favorite gift to give or receive for Mother's Day?
What is the most meaningful gift from your Etsy shop?
**Note: The following are affiliate links. If you choose to click on the link and purchase an item, I bring home a little extra income at no extra cost to you and no extra cost to the sellers. That income helps me be able to give more to you and this website. Please see my full disclosure policy for more info.
Shops for a Good Cause:
There are so many great artists on Etsy. This list is by no means exhaustive. Please consider supporting small businesses at this time. Please note all pictures from the shops are from their own shop pictures.
Until October 2020, 100 % of the proceeds will go to the American Foundation of Suicide Prevention.
Favorite gift: Hayley Jo's family views Mother's Day as a celebration of all the women in their family. Her favorite gift to give was a girls' trip to a Disney fun run. To add to the tradition, Hayley gifted her mother with matching charms to represent their trip.
Most meaningful gift from her shop: Customizable animal key chains.
Having a unique name myself, I always appreciated a personalized gift with my name. "Brynn" names don't usually come pre-printed.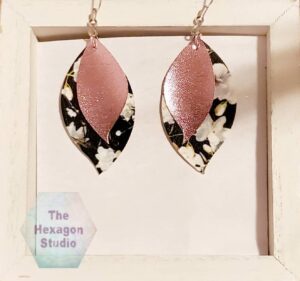 Ethically sourced, ethically made fashion accessories and home décor. The Fair Line is the handcrafted line of Education And More which is a non-profit working to improve the lives of Mayan artisans in Guatemala. We design items that our partner artisans in Guatemala then hand weave or handcraft. They receive a very fair wage plus many other benefits such as education and home improvements to help them step out of poverty and improve their lives.

The Fair Line
I have a special connection with fair trade stores. When I lived in Nashville, I volunteered at Ten Thousand Villages. I've always loved supporting local communities, especially in areas where there are not many choices for women.
Favorite gift: Coleen's favorite gift is when someone spends time to help her with a project or donates to a good cause in her name. Her favorite gift to give is the handwoven towels from her shop.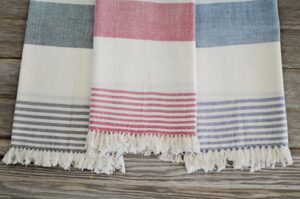 I'm a little bit of a tree hugger (just a little), so I love reusable, well, anything.
I especially love my reusable towels my sister gifted me for Christmas. They make even meals like macaroni feel luxurious. The towels from The Fair Line would make a beautiful addition to my collection.
Most meaningful gift from her shop: Bracelets 2 Educate
Every bracelet sold helps mothers earn a living and helps their children receive an education. Coleen has the honor of visiting Guatemala and seeing in person the smiles and hugs of children gifted school supplies and fees as a result of the good this company is doing.
I personally find bracelets are a great way to remind yourself of things to pray for and opens up opportunities to share awareness. A large variety of bracelets are available in Coleen's shop.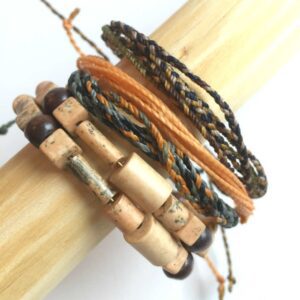 Homemade soaps and similar items are all the rage these days. I myself have fallen victim to the shops, and don't plan on turning back. Taimi has a beautiful assortment in her shop.
Favorite gift: A hand-painted rock from her sons when they were three and five. To this day, Taimi still uses the rock as a paperweight and sweet reminder of love.
Most meaningful gift from her shop: Posh Gift Box supporting The Roverchase Foundation **Unfortunately the Posh Box was just sold out. The next stock is expected in about four weeks. I have been known to send an image of gifts as I am usually a last-minute shopper. It's the thought that matters right. 🙂
There are still many beautiful items available. Though they will not go towards the foundation, any purchases will help Taimi be able to continue this service.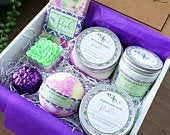 A little about the mission of the Roverchase Foundation:
Creating opportunities for dogs and their people by assisting individuals with disabilities with the financial costs of obtaining a quality, life-changing, and professionally trained service animal

Aqua & Spark
As a godmother of the puppies trained in this program, it carries a special meaning to Taimi. She has seen how these dogs can change lives, from helping a 15-year-old with epilepsy to being a live-in aid to a wheelchair-bound college student with a rare disease.
These dogs can be trained for many things, including the following:
Turn on lights
Opens doors
Retrieve a medical bag at the exact time medicines are needed
Any many more!
I have also had the honor of helping raise money for a service dog, so I know first hand just how much the training can cost and how much every penny is worth the help the animals provide.
In addition to many of her products being made with recycled goods, the proceeds from her tote bags go to the women's coop in India. As an additional note, her jewelry is packaged in homemade bags from the women's coop as well.
Favorite gift: A printed collection of pictures of her first year as a mother with her son.
Most meaningful gift from her shop: The tote bags were a meaningful way to bring items from the actual coop to support the artists in India.
One of my personal favorite ways to "wrap gifts" is by placing them in a bag or box that can also be considered a gift! Think:
Reusable grocery bags like the ones from Katie's shop
Mugs
Or even oven mitts.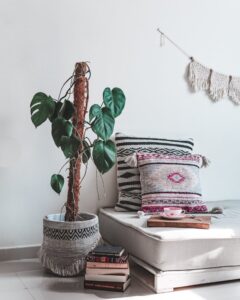 Mother's Day Gift Guide Continued:
I don't have any personal comments or stories from the following shops. They are shops found during my research of Etsy shops for a good cause or stores that would be a great addition to any gift.
This non-profit organization was started by two 17-year-old girls. According to their store, all proceeds go towards children in need of cleft lip and palate surgeries.
I worked as a nurse with a great surgeon who repairs cleft lips and palates (And much more!). I have seen the miraculous work these surgeons do.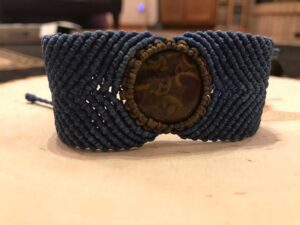 I have been a follower of Sarah for some time now. Her book, Transforming Your Thought Life, has helped me refocus my walk with God.
She also creates beautiful paintings.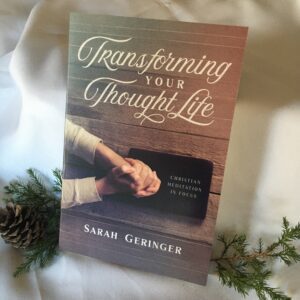 Beautiful gifts made of custom made wood.
Oh, man, this store had so many beautiful items. I may have to add all of them to my cart. Pictured below are a few of my favorites: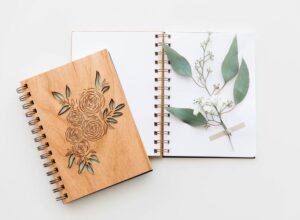 So many unique and beautiful gift ideas! Many items were $20 or below!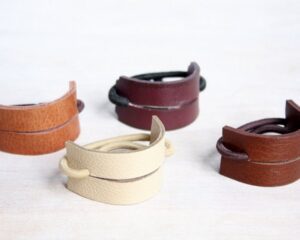 Sometimes, all you need to tell someone you love them is a simple card. The simple, but well thought out gift may be remembered the most.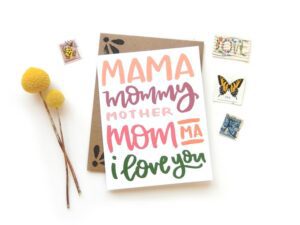 Well, there you have it…
A Mother's Day gift guide full of great ideas and gifts that keep on giving.
For more inspiration, be sure to check out Etsy's Mother's Day Gift Guide from the Editor's Picks.
When you think about it, any gift from Etsy or any other local store for that matter is giving back to the community.
These gifts are going to support people just like you. Trying to live their lives in the most extraordinary of ways in their ordinary lives, which is really what life is all about. And is what I strive for my website to be about.
Click To Tweet
Living life to the fullest. It's what God actually wants for us.
I have come that they may have life, and have it to the full.

John 10:10 NIV
No matter what you decide for Mother's Day this year, just remember to take the time to honor the women in your life. Even the smallest gestures will be appreciated.
Your turn! What is your favorite gift you have given or received for Mother's Day? Tell me in the comments!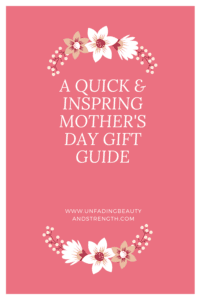 AS always, thanks for reading. Remember, Sharing is caring.
Related Articles:
How to Support Small Businesses From Your Couch
Business Spotlights: Good Fortune Soap and Sarah Geringer Creates