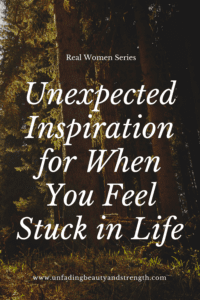 Inside: Inspiration for when you feel stuck in life: A lesson on the less-traveled path from a self-made entrepreneur
---
This page may contain advertisements or affiliates, which may allow me to take home a small amount of income at no additional cost to you. For more information, go here.
Introduction to Guest Post:
Today's post and inspiration are written by Connie White: entrepreneur, artist, author, and all-around inspiration.
I first met Connie when I was in high school. She was my boss at Chick-Fil-A. While she was an inspiring leader and person way back then, only God knew the plans he had for our friendship.
While the circumstances and age gap at the time kept us as employee and employer, she was always open and available to chat and consistent in her morals and principles, which even as a naïve and somewhat bratty teenager, appealed to me.
Fast forward to five years:
I was nearing college graduation and searching for a job. I had a few interviews in Nashville, TN, where Connie was residing. In spite of little contact throughout the years, she generously allowed me and a few fellow nursing friends to stay at her place while we had our interviews.
A few months later, I accepted a job in Nashville. I knew absolutely nobody, except Connie. She extended much grace and love to me in those early years of my nursing career, making sure I had support, offering a listening ear and an open home whenever I had need. During this time our friendship blossomed.
Even when I moved to a different city, we still kept in touch and still do today.
A True friend:
Connie is a true and open friend. I can always count on truth and honesty in our friendship, which is a rare treasure indeed.
Now, she didn't graduate from college. Connie, as described eloquently in her own words below, devised her own path in life.
Connie is proof that you don't have to graduate from college to be successful.
But I came from a family where a college education was valued and expected, so I believed a college education vital for many years. And while I still value education and learning, a college degree doesn't equate to success and/or happiness.
In the same way, if you did pursue a degree and find yourself (much like myself) feeling guilty for contemplating leaving your career, then know that you're not alone and you can change directions in life, no matter your age or circumstance.
One Size Doesn't Fit All: Guest Post by Connie White:
Society makes us believe that life is linear. Finish high school. Graduate from college. Get a good job. Get married. Buy a house. Get promotions. Raise children. Retire. Finally get to play a little. Done.
Comparatively, my life has probably seemed pretty wonky to onlookers. I'm almost certain the word directionless has been used. I didn't finish college, didn't get married until 33, never had children (and don't plan to), and have held more jobs than I can count—from the service industry to corporate jobs to owning my own business to writing books and selling art. I changed direction a LOT. I wanted to try things. I learned a lot of useful skills along the way. My life hasn't been perfect, and I certainly didn't love every twist and turn, but I never felt held back. I liked the freedom.
"Two roads diverged in a wood, and I—

I took the one less traveled by,

And that has made all the difference."


The Road Not Taken by Robert Frost
I'm not here to tell you my wandering life is for everyone. I'm definitely not here to tell you it's better than someone else's journey.
I'm here to talk about that linear path. There's nothing inherently wrong with it. It is normal, sensible, and often, good. But society's insistence that it's the right path—the only right path—has given us a sort of a complex that if we aren't doing any one of these things properly or in order, we've missed a step, lost an opportunity, or taken a wrong turn.
I've talked to many people who wish they'd taken a different road—some who chose the "right" path and some who meandered as I have. I can't say with scientific accuracy that forging your own way will make you happier than following society's plan. Sometimes "the plan" totally aligns with your desires and talents. What I can say is that one size doesn't fit all.
Why do we keep telling everyone there is only one path? In a word…
Fear.
The path we know is the path that normally works. But if we only ever do what normally works, we will never rise above normal.
We aren't encouraged to take risks because people fear failure, and they want you to fear it, too. But what if not allowing people to take risks is causing them to fail.
I believe some people aren't meant to follow the norm—that doing so is a kind of death—and indeed, that some people aren't even capable of it, leading to a life of feeling inadequate, misunderstood, and empty.
This is sort of the theme of my book, Vincent in Wonderland. I think Vincent van Gogh was one of those people—incapable of living a life of which the society around him would approve. That's not to say he was a perfect person. He was very flawed, difficult, and almost certainly mentally ill. But could society have cared for him better by allowing him to be as he was instead of constantly making him feel he was not enough?
Here's a quote from Van Gogh himself:
"What am I in the eyes of most people—a nonentity, an eccentric, or an unpleasant person—somebody who has no position in society and will never have; in short, the lowest of the low. All right, then—even if that were absolutely true, then I should one day like to show by my work what such an eccentric, such a nobody, has in his heart."
This, y'all…from probably the most famous artist of our time.
If he had not been made to feel this, could his mental health perhaps at least have been improved? How many more paintings could he have left us?
Society likes to speak the message that it's OK to be yourself, but when it comes to living that out, you will inevitably face some mockery, disapproving attitudes, and intrusive questions.
But you'll also get a few people who say they wish they were brave enough to step off the beaten path and follow the road less traveled.
To be clear, I'm not advocating throwing caution to the wind and leaving all your responsibilities behind.
That isn't what this is about. I know there are some who followed the normal plan and now feel stuck there…mortgage, health benefits, family commitments.
If that's you and you feel you've lost your chance or ruined your life, think again. How many people in the Bible were in circumstances that seemed like they'd never live a life that would make a difference?
Abraham wandered around in the desert for forty years making a lot of mistakes and enduring a lot of tragedy. Joseph was a slave or in prison for twenty years or so. Moses was a shepherd in the desert for forty years feeling like he'd abandoned his people in Egypt.
Wherever you are, you're there for a reason.
I love this quote by Oswald Chambers: "Never allow this thought—'I am of no use where I am,' because you certainly can be of no use where you are not! Wherever He has engineered your circumstances, pray."
It's so true! Wishing you were somewhere else will NEVER solve a problem or make you happier, and God can ALWAYS make something wonderful from your life if you are submitting to His plan today, wherever you are. Remember, His mercies are new every morning! (Lam 3:22-23) So, if you're wandering around and feeling stuck in your mistakes and disappointments, or like a slave to your circumstances, or like you abandoned the plan God had for you, rest assured, God is still working in your life!
There's another quote I love:
"Be happy with what you have while working for what you want."

Helen Keller
Embracing your circumstances doesn't mean you have to sit in them if God is leading you to move forward into something else. But if you think you can only be happy "when…," you will never be happy, because the bar will continue to move further and further away. (Check out the book "The Happiness Advantage" by Shawn Achor.)
Where does all of this leave us?
The dedication in my book, Vincent in Wonderland reads, "To anyone who has ever felt like the world doesn't want what you have to offer—give it anyway."
So, if that's you…if you've been holding back out of fear or for whatever reason, please don't! The world rarely knows what's good for it. Somebody needs what you have to give!
And if you feel trapped in your circumstances and think it's too late, please don't! Hope, pray, live your day-to-day life with the expectation that God "can do infinitely more than all we can ask or imagine…." (Eph 3:20) "'For my thoughts are not your thoughts, neither are your ways my ways,'
declares the Lord. 'As the heavens are higher than the earth, so are my ways higher than your ways, and my thoughts than your thoughts.'" (Isa 55:8-9)
I leave you with this mantra: "Hope, Imagine, Believe."
These words are meaningful to me. They're on my business cards and my website, because it's what I want to give to people through my words and through my life. I want to show you that you are worth more than you know, that it's never too late, and that there is always, always something to look forward to as children of God.
In Conclusion:
I hope you found as much inspiration as I do every time I talk to Connie. And while there is nothing else that I could add, I will leave you with one final note and a personal favorite scripture:
For I know the plans I have for you, says the Lord. They are plans for good and not for disaster, to give you a future and a hope.

Jeremiah 29:11
As always, Thanks for Reading! If you enjoyed this post, I would appreciate your shares on social media.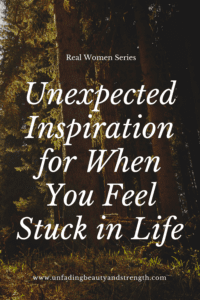 Finally, You can follow Connie below:
Check out her book website HERE and her art website HERE.
Check out all her books Here. And pictured below are some of her books as well.
If you enjoyed this article, You may enjoy the following:
The Advice You Need to Go Back to College from a Brave Mom
9 Authentic Ways Clementine Hunter Inspires You to Dream
This page may contain advertisements or affiliates, which may allow me to take home a small amount of income at no additional cost to you. For more information, go here.