Inside: A Devotional Inspired from Holiday Memories to Encourage Us to Slow Down at Christmas and all year long.
This page may contain advertisements or affiliates, which may allow me to take home a small amount of income at no additional cost to you. For more information, go here.
** As an Amazon Associate I earn from qualifying purchases.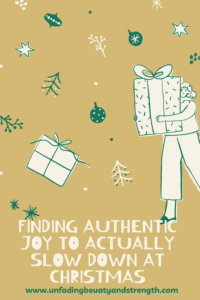 To slow down at Christmas is often the last thing on our minds. From buying presents to baking to Elf on the shelf antics, there is just too…much…to…do…
But, we don't have to do all things every year.
Christmas memories are great, but not if they are paired with pulling your hair out or collapsing into bed at one in the morning.
Its just not worth it. Really.
Small Things Make Big Memories.
When I think back to things I remember as a child, they are seldom big things.
Unwrapping my gift of a paper boyfriend and then going on a scavenger hunt for my real gift.
Piling in my daddy's old white truck and singing Christmas carols on our way to cut down our tree.
Or taking turns carefully placing our ornaments on our tree while old Christmas records played in the background.
Whether we had a fake tree or a real tree, it didn't matter. It didn't matter whether we fought and pouted. (which we did) It didn't even matter that my mom would rearrange the ornaments after we went to bed. (I understand why now!)
None of those things mattered because the memory came from coming together as a family. The memories came from when we slowed down at Christmas long enough to enjoy each other.
Now these days,
I continue the tradition of decorating the tree with my own family. Ours might look a little different. For instance, I now stream Christmas music from my phone and blue tooth speaker, and I rarely rearrange ornaments unless they are about to drop to smithereens.
Now, as an adult, do you know what the greatest part is for me?
Memories of my kids' first Christmas
Looking back on my childhood ornament gifts from long lost and beloved grandparents.
The friendships
And oh, so much more. More than I could fit in one post!
I savor the memories every evening the whole season long. If I'm feeling blue, all I need to do is look to my left and ruminate on my tree of memories and love.
The things that are so easy to forget during this frantic season are the memories we share and the traditions as old as time. We forget to slow down at Christmas and enjoy those moments.
Jesus knew this to be true as well.
Many times Jesus would withdraw to be alone. One example is after the last supper when he was praying in the garden right before he was betrayed by Judas. (See Matthew 26:36-44)
Or Consider Matthew 26: 26 to 30:
As they were eating, Jesus took some bread and blessed it. Then he broke it in pieces and gave it to the disciples, saying, "Take this and eat it, for this is my body.

Matthew 26:26 (NLT)
Jesus remembered to give thanks, in all things. Even on his last days, he slowed down and had a meal with his closest and most beloved friends.
While reading Luke 2: 1-20, we see the beginning of Jesus's life was in the middle of a probable busy season as well. Joseph and Mary were traveling for a mandatory census. They could find no rooms and ended up in a barn, but maybe that was just the most perfect and fitting plan.
Joseph and Mary were away from all the probable chaos. They were able to just marvel in wonder at this little child's birth and the same time experience something truly and supremely majestic.
Oh to be there in that moment, you would have to be alone perhaps or at the very least slow down enough to be aware of the great things happening all around.
If you can slow down at Christmas and all year long, even if just a little, you make more room for love, joy, and memories.
If you can slow down at Christmas and all year long, even if just a little, you make more room for love, joy, and memories.
Click To Tweet
Every year, as I watch my two children and my husband decorate our tree, my heart swells with just a little more love and joy, even amidst a little crankiness and a few broken ornaments.
Those broken ornaments don't matter, but those two little lives God has given me and the man who chooses to stay by my side no matter what, those are the things that matter. All…Year…Long…
Have you stopped this year to revel in the joy and memory that is the season? Remember that many times to accomplish more, you must slow down.
The most wasted of all days is one without laughter.

E.E. Cummings
If you enjoyed this short devotional, subscribe to my weekly newsletter HERE!
As always, Thanks for Reading! If you enjoyed this post I would appreciate your shares on Social Media.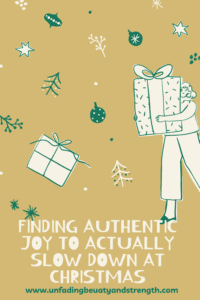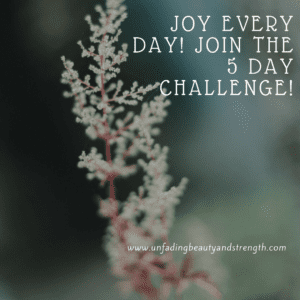 You may also enjoy the following:
Divine Intervention: An article on finding God in every day things.
Glimpse of Heaven: A story of friendship and sorrow
Encouragement for Thanksgiving: Stop to Give Thanks Now (unfadingbeautyandstrength.com)
Latest Posts:
This post was originally published on December 4, 2019. Revised December 9 2020