Inside: What is the spiritual meaning of Easter all about? A short easter devotional inspired by some not-so-good Easters. Plus 12 Bible Verses to Point Us to the Cross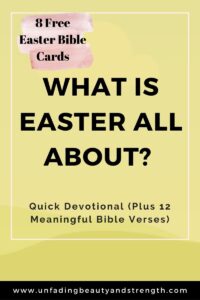 Easter and the month of April have held some pretty big moments for us over the last few years.
And not in a good way.
2020:
Tornadoes ravaged our city and destroyed hundreds of homes on Easter Sunday.
Related Reading: How to Help a Friend After a Disaster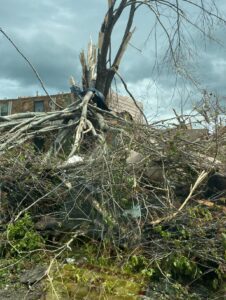 2021:
In April, my husband told me he lost his job.
Related: When Your Faith Is Tested: Finding My Real Security
Go back a few Easters to 2013:
My daughter was 6 weeks old and we were on our way for her to meet her namesake, my beloved grandmother.
My grandmother died while I was driving the 8 to 10-hour trip down to see her.
On all those occasions what was supposed to be a joyous time was wrought with grief and unexpected change.
But when I contemplate the true spiritual meaning of Easter, isn't that what the holiday is all about?
The grave tragedy of the cross was followed by unfathomable joy and awe. And all this was in the middle of the Passover celebration. (Matthew 26)
Jesus was celebrating the Passover with his apostles the very same night he was betrayed and then crucified the next day.
But the story doesn't end there…
The Easter story is a mixture of celebration and great grief.
From noon until three in the afternoon darkness came over all the land. At that moment the curtain of the temple was torn in two from top to bottom. The earth shook, the rocks split and the tombs broke open.

Matthew 27: 45, 51-52 (NIV)
When the curtain was torn in two darkness filled the land with, sorrow, grief, and amazement.
But here is the greatest part of the story:
Three days later, unfathomable joy and disbelief abounded.
Jesus had overcome death.
He was not at the tomb, he had risen! (Matthew 28:6)
While we're not told about the emotions of the apostles or Jesus' followers, I believe it had to be a mixture of confusion and disbelief and grief and joy and amazement.
I can't even process how they would have felt. There are no words.
So the spiritual meaning of the Easter story is a reminder:
A reminder of how grief can pull people together and can even lead to joy sometimes.
After the horrific tornadoes, the community that pulled together was amazing. Amongst the tragedy, great love and service were shared.
When my husband lost his job, we were confused and scared, but again, our church, family, and friends surrounded us with love and support.
And even though I was greatly saddened by my grandmother's death, I celebrate what an amazing woman of God she was. I am filled to the brink with the joy of knowing her. And my chest swells with the knowledge that my daughter carries a portion of my grandmother's honorable name.
And while I am greatly grieved that Jesus gave his life for me,
I am also speechless, humble, and forever grateful for his abounding love and grace.
A love we can never repay.
Because He has risen, we can have hope and joy in all circumstances.
Our joy can never be stolen.
So with you: Now is your time of grief, but I will see you again and you will rejoice, and no one will take away your joy.

John 16: 22 (NIV)
So, what is the true meaning of Easter?
I pray as you celebrate Easter this year, that yes, you will remember Jesus's selfless sacrifice, but I pray you will remember that Christ has risen as well!
And we can sing hallelujah all day long.
Joy and sorrow can and often do mingle together.
We can only see the rainbow after a storm.
Remember both your hope and your grief.
Hope and grief both tell the story of Jesus.
Therefore, since we are surrounded by such a great cloud of witnesses, let us throw off everything that hinders and the sin that so easily entangles. And let us run with perseverance the race marked out for us, fixing our eyes on Jesus, the pioneer and perfecter of faith. For the joy set before him he endured the cross, scorning its shame, and sat down at the right hand of the throne of God. (emphasis mine)

Hebrews 12: 2-3 (NIV)
So, how do you celebrate Easter? What is the spiritual meaning of Easter to you?
Growing up my family never celebrated Easter in the traditional sense. I grew up in a strong Christian home and we were taught about Jesus's death and resurrection. Just not at Easter.
What I remember about Easter is the Easter hats (not sure where that came from), fancy dresses, Easter basket goodies, and of course Easter egg hunts.
I'm sure my parents had their reasons and you may choose to not celebrate Easter from a Christian perspective either, but any time I can point my kids and family to Christ, I try to take the opportunity.
So my plan this year will be to include Bible verses in our Easter egg hunt.
Not only about the Cross, but also verses I want my children to hide in their hearts.
Below are 12 Bible verses about the Easter story:
***All verses from NLT or NIV Bible versions.
1. Matthew 21:9
Blessed is he who comes in the name of the Lord! Hosanna in the highest heaven.
2. 2 Phillipians 3:10
I want to know Christ, Yes to know the power of his resurrection.
3. Acts 15:4
He was buried, and he was raised from the dead on the third day.
4. Philippians 2:8
He humbled himself by becoming obedient to death, even death on a cross!
5. 1 Corinthians 6:14
By his power God raised the Lord from the dead.
6. Luke 24:6
He is not here; He has risen!
7. Romans 6:9
Death no longer has any power over him.
8. John 3:16
For this is how God loved the world: He gave his one and only Son.
9. John 11:25
I am the resurrection and the life.
10. Mark 16:4
They saw that the stone, which was very large, had been rolled away.
11. John 14:6
I am the way, the truth, and the life.
12. Luke 19:10
For the Son of Man came to seek and to save the lost.
While Easter has historically marked some big moments in my personal life,
The most momentous moment of all is knowing that Christ died for me.
His great tragedy confuses and comforts my soul with sadness, joy, and hope.
As always, thanks for reading. If you enjoyed this short Easter devotional about the spiritual meaning of Easter, I would appreciate your shares on social media.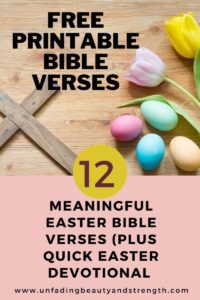 You may also enjoy:
Related Resources:
This page contains advertisements, which may allow me to take home a small amount of income at no additional cost to you. For more on this go here.
Original Post April 13, 2022, Updated April 3, 2023