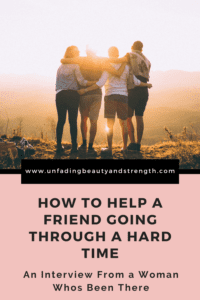 Inside: How to Help a Friend After a Disaster: An Interview and Tips From a Woman Whos Been Through a Tornado
Easter night 2020,
Around midnight, I was just at that moment between awake and asleep, finally, when my husband bursts into our bedroom.
The next moment,
We were thrusting our kids from deep sleep into a damp, cramped, and cold bathroom tub.
In the pitch black, we could hear the powerful winds outside our doors. With a trembling voice, I cried out in prayer to our great God.
The tornado passed over in just a few minutes.
As we attempted to lay our kids back down to bed, we had no premonition of what yet lay ahead.
No damage was evident in our neighborhood in the dark of the night. A quick glance out the window revealed no immediate threat.
The next morning we had no power.
We didn't want to open our fridge door to waste the coldness left in there so we ventured out to find some food.
What would have normally taken us thirty minutes there and back, turned into a two-hour-plus ordeal.
But as we drove around looking for food, the real tragedy that many suffered enveloped us.
Downed power lines blocking off whole neighborhoods.
Whole patches of trees laid flat.
And hundreds of houses destroyed.

Whole bedrooms exposed.
Roofs torn off.
Scattered belongings and debris at every turn
In many neighborhoods, only one or two houses stood wholly alone and intact.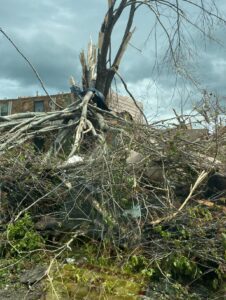 I could never explain the sickening and heartbreaking nauseating scene we encountered that day.
While our house was spared and the worse we had to deal with was no power for seven days, many people were not as fortunate.
I found out my friend Rachel was one of those.
Her house was significantly damaged and to make it even worse or at the very least more stressful, was that they had just moved into their home and Rachel had recently come home with her newborn baby.
Their new house was unlivable. They ended up having to live in one or two different apartments and were not able to move back into their home until October.
I felt helpless.
Not only for my friend but for all those living around me. Every time I left my neighborhood, I found:
My heart breaking,
tears swelling,
and prayers and questions lifted.
Several months later I had the following interview with my friend.
After talking with her I know the next time disaster happens, I'll be better prepared.
And if you've lost your home or have been through something similar, I pray you will find encouragement through Rachel's story.
If you know someone who is suffering a tragedy, may we listen to those who've been there so that we may best know how to serve those around us.
Do nothing out of selfish ambition or vain conceit. Rather, in humility value others above yourselves, 4 not looking to your own interests but each of you to the interests of the others.

Philippians 2:3-4 (NIV)
Interview:
**Some sentences edited for readability/clarity purposes. The content of the questions is unchanged.
1. What damage did the tornado cause to your house?
We had multiple trees fall against the house, but the largest one took out the back left corner of our home. It took off the roof and two out of four walls of my son's nursery,
And then that same tree came through our master bathroom and half bathroom next to it.
We also had trees fall across our back deck.
Finally, just from the impact of the size of the largest tree hitting the house, our basement floor was cracked.
Thankfully the foundation was not compromised. We also had cracking and water damage in almost every room and ceiling except the garage.
2. Can you describe to me the initial emotions or thoughts that went through your head that night and the following days?
I remember distinctly thinking, How could this actually be happening?
My son had just been born ten days before the storm hit, so from that experience alone my mind and body were still recovering.
But I remember never fearing for my life.
Thankfully we had a secure basement hallway we could lock ourselves into had the entire house been taken out completely.
However, I was afraid. I remember thinking that I should show bravery or trust in the Lord for my 2-year-old, but that quickly went out the window 😉
My daughter was oddly calm and kept telling me, "It's okay, Mommy. Don't cry."
Faith like a child, I guess!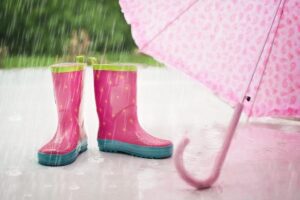 That emotion of just sheer disbelief continued as I came up from the basement holding my newborn son.
I couldn't wrap my head around it, and then fear set in:
Where would we go in a global pandemic?
Praise God for our neighbors. They took it upon themselves to check houses around them and let us come stay the night–even though we had only briefly met them just once before because we had just moved into the home five weeks prior.
The next morning walking across the road to our house and seeing it in the daylight was again just mind-blowing. It felt like a war zone. And I felt very, very overwhelmed as to what to do next.
3. What first steps did you have to take?
The first step was calling insurance to report the claim and get that process started.
We also then had to find somewhere to live as our house was not livable. Plus we also tried to move/save as much as possible from further exposure while documenting EVERYTHING in the home.
This part of the process was the most burdensome. It was hard to know what pictures had or hadn't been taken.
And then to go back and remember it all felt like a lot. But accurate and timely reporting was key to starting the repair process as soon as possible. We felt fortunate to have a great claims manager, contractors, and adjuster.
4. During the period right after and the months following, what did you find the most helpful act of service or need was?
We had friends provide meals for almost two weeks straight, and that honestly was the greatest gift.
So much of what we were handling and dealing with had to be done by us.
But food other people could take care of, and it really lifted such a load. It also was helpful that friends dropped off groceries and then at one point I even had someone run a load of laundry.
The basics make the biggest difference.
Such as people offering to babysit our two kids so my husband and I could :
Go out and meet with contractors,
Shop for repairs,
Have an hour uninterrupted to run through spreadsheets and finances
Again, it was tough in a pandemic initially because people were socially distanced, but even from afar, people loved us so well.
5. What was the least helpful?
Hmmm… Maybe people just offering help once?
And then if I couldn't find anything they would just stop reaching out.
If you are ever on the offering end, and someone you're trying to help tells you they don't have a need at that specific moment you checked in, set a reminder, and check in later.
It was a wonderful problem to have but SO many people were offering help right away, I ran out of things for people to help with.
But those who kept checking in meant so much.
And later down the road, I did need the help.
It also meant a lot when people didn't even ask but knew we loved something like a Starbucks gift card. Or they would drop off new toys at our rental place to help entertain the kids during the days we were so busy.
6. We've talked a lot about joy and gratitude, even in the hard moments, so even though I can't imagine how hard it might have been, were you able to find any blessings?
I never would have chosen to have our home hit by a tornado while having a newborn in a pandemic.
However, as I had mentioned before, we just purchased our home. We had bought it in such a way that we knew we would have to do some fixing up and modernizing of an older home.
We knew that financially we would have to take things slowly and just do projects one at a time. That would just have to take longer than we would like, but we knew it was the wisest decision.
But because so much damage occurred to the house, we were able to work with contractors so it all got updated at once!
We never could have afforded a home with these updates. Our contractors were so helpful to keep us on budget while we worked.
The Most Important Blessing
The reality really set in the Friday after the tornado hit. As I drove up to the place we were staying, I saw my daughter running around outside playing. Great gratitude struck me at that moment.
We could have lost so much more than a house that Easter Sunday night.
We could have lost each other.
Having lost someone tragically already in my life, that reality felt all too close.
My gratitude for the safety of everyone who was in the home (my parents were staying with us too) is hard to put into words.
God uses stories of redemption all the time.
We are all part of a larger story of redemption and then we see it in smaller ways in our own lives. And it's truly amazing that everything that was lost could be redeemed and reestablished in 6-8 months.
And humbling because we could have lost so much more.
Some stories aren't fully redeemed this side of heaven.
Sometimes we lose things or people that we will never be able to get back this side of Heaven. God can still use this as well, and He's in all these stories working in ways sometimes we don't understand.
It's easy to see God and His blessings in our tornado story, but He is working His larger story of redemption out for all of us every day.
7. If there was one thing you could tell someone who has faced a similar situation, what would that be?
Take LOTS of notes.
And keep EVERY. SINGLE. piece of documentation you receive!
And let people help you–especially in those first weeks.
It's amazing to see a community rise together in the face of devastation.
However, I would add that it is important not to jump to Jesus at the very beginning of the disaster.
Yes, He is the most important, but validate the shock of the trauma of the event that just happened to the individual instead of immediately jumping to the possible blessings or ways of redemption that will be seen in the future.
Those will come in time, but they are hard to grasp in the beginning.
Conclusion:
Easter now, for me, has an added dimension of remembering when our town was ravaged by tornadoes.
I am reminded of a point my pastor recently made.
In this world, we will have troubles and tribulations and we are not promised a life full of happiness.
As Rachel so beautifully stated, not every story will be redeemed this side of heaven.
The amazing part is if you're a Christian, your story will be redeemed and while tragedy may strike in the worst of our fears, we have nothing to fear for He has overcome the world.
He has overcome death. And death may take our physical bodies but we will never feel the sting of death.
And for that, we must say Hallelujah!
Key Takeaways:
I know many times when disaster strikes a friend I don't always know what to do and then I find myself doing nothing. So I found the following tips very helpful.
Don't immediately jump to stating God's blessings. Yes of course they are there, but people need to know you care before they will see it as God's blessing.
Check-in again. Put it on your calendar. I found this to be the most helpful practical suggestion. How many times do we check in to see if someone needs something and they say no, and then we say or think, Okay, I did my part. Check.
Let people help. Our tendency in our culture is to do it all by ourselves. And we really just end up sounding like a petulant two-year-old, which is cute when they're putting on their clothes, not so cute when they are trying to buckle themselves up, and you're late.
Know what you can help with. Not everybody will be able to drop everything and babysit and that's okay. Just do what you can do. God knows your heart and he sees you and all he's asking is that you give your best.
Sometimes the strongest words you can say are the actions.
When God was explaining what sacrifices were accepted, did he ever say that the poor couldn't give? If they couldn't afford the ram, all he asked for was the best they could give.
And that's all you can give. Your best.
What did you learn from Rachel's story? Can you add anything to my list to help during a tragedy?
As always, thanks for reading and if you enjoyed this post, I would appreciate your shares on social media.
You May Also Enjoy:
When Your Faith Is Tested: Finding My Real Security
Advice You Need to Go Back to College From a Brave Mom
Unexpected Inspiration for When You Feel Stuck in Life
Related Resources/Gifts:
This page contains advertisements, which may allow me to take home a small amount of income at no additional cost to you. For more on this go here.