---
Inside: Personal stories of struggle to provide encouragement to persist. 4 Practical ways to persist with your word of the year
This page contains advertisements, which may allow me to take home a small amount of income at no additional cost to you. For more on this go here.
---
Do you ever feel like no matter how hard you try, how consistent you are, or how many different ways you say or do something, it always turns out the same?
Kind of like when you're in the middle of 1000 steps to climb:
You cant see the top, but you've gone too far to go back. You're stuck in the middle with no end in sight.
That's when you need persistence.
So last year my word of the year was Delight. I felt so wrapped up in my to-do lists that I wasn't enjoying the everyday moments. I was too busy thinking about the next task.
While I would like to say I mastered the word, the truth is I almost didn't pick out a word for this year because I felt like I had failed.
I'm still wrapped up in my to-do list. My friends like to joke that I have a to-do list for my to-do list.
They're not wrong, but while being too focused on checklists may always be a challenge for me, I've also learned to delight in those lists, to some extent.
Because trust me, you'd rather have my list written on paper than stuck in my head. When I don't dump my brain, a bunch of run-on sentences and fragments pour out of my mouth.
Just ask my husband.
And while I still need to work on Delight, that's one reason why my word for this year is so important.
Because some things take a lifetime to learn.
So I need, Persistence…
Now I'm not usually one to say I heard the voice of God (although I do think God still works in that way at times), but while I was debating about revamping my post from last year on this topic, and while my head was swirling with the tasks yet to be written down, I heard the word,
Persistent.
Whether you want to call that coincidence or not, if God can move mountains and make the waves stop with the sound of his voice, then he can whisper a word in my head.
However, you won't hear me tell you to jump in front of a bus and have faith that God will save you, because God also gave us common sense.
But I will tell you I felt peace and confidence that this was my word of the year as soon as I heard it. So, yes, I think I'll listen to that voice.
You see, I've been praying for many things for many months and years now:
Struggles with my daughter related to behavior, anxiety, and some obsessions
Begging God to use my words and website for others and to allow me to quit my job full-time.
Praying for this pandemic to end
And even prayers for a stronger marriage
Sometimes prayers aren't answered how we think or want them to be.
Just as the heavens are above the earth, my ways are higher than your ways and my thoughts are higher than your thoughts.

Isaiah 55:9 (check verse)
And my heart gently says, Persistence…
We have been struggling with my daughter's behavior and anxieties since she was about three or four. (She's now 7.) Struggles like:
Dragging her out of the library kicking and screaming
Watching her work herself into near panic attacks and hyperventilation because we didn't go up the stairs the same way at church one time
Or observing her lick her lips to the point of causing intense redness and sores.
Oh, it doesn't make for an easy life and I often wonder why God chose me to be her mother.
But He whispers, Persistence…
I've been praying for my website to take off and trying to do all…the…things.
And oh so many times I've wanted to throw in the towel because I'm not there yet, not…even…close.
But I keep going and I keep trying
And God gently nudges, Persistence…
While I watch the pandemic numbers rise to unprecedented amounts and while the number of people I know becomes sick with Covid, my heart begins to race. Some friends have recovered fine and I'm thankful.
But still others and the loved ones in their lives will never be the same and my heart breaks…
And all I really want is for people to show a little respect for each other, whether they choose to vaccinate or not and whatever they choose to believe.
Because in the end, we are only in charge of ourselves and our actions.
But still, I cry out, when will it all end?
When can I go to work without breathing mask fibers?
When can I send my kids to summer camp?
And when can I just have a cappuccino without worrying about Covid.
And God cries with me, Persistence…
Marriage is not easy. My husband and I just celebrated 11 years and yet we are so weak in so many ways. We aren't without our struggles. I want to blame my husband and insist our struggles are all his fault,
But really there are two in this relationship. And once again, I'm only in charge of my actions and my choices.
But yet I continue to long for the marriage God has called us to. But it's so…much…work…
And through my frustrations I hear, Persistence…
So when I hear the word, Persistence, prompted in my mind, then I know.
Because in raw honesty, I just want to quit, punch a hole in the wall, or cry heavy, sagging tears in my closet some days.
But I can't quit. For even though the above things are hard, grueling, and thankless with no end in sight, they are worth it.
My daughter deserves my time and love.
Writing words of encouragement are worth just even one person.
Prayers for the sick are worth my time, for even though we may not understand, God calls us to call on his name.
And my marriage warrants my investment and love and so much more
So if you find yourself in the middle of an uphill climb, persistence will get you closer to your destination.
All these things are made worthy and our great God cares about all the little things as well. For he knew the meaning of the word persistent.
He has cried great tears of sorrow and he has seen greater love than any human mind can comprehend.
But how do we remain persistent when the very essence of the word means to keep pushing against all odds? Maybe all we need is to just hold on, just a little longer…
So let's not get tired of doing what is good. At just the right time we will reap a harvest of blessing if we don't give up.

Galatians 6:9 (NLT)
4 Practical Ways I'm planning to Persist with my Word of the Year:
Meditate and memorize the following scriptures:
Pray over the struggles mentioned in the article above. I use the PrayerMate app to help me stay consistent in prayer.
Read a Bible plan from my Bible app on persistence each month. You can friend me and join me HERE if you like.
Acquire a few tangible reminders. Some examples on my list include:
What about you? Do you have a Word of the Year or any tips to add to my list?
As always, thanks for reading. If you enjoyed this post, I would appreciate your shares on social media.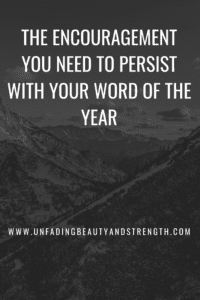 Related Articles:
10 Bible Verses for When You Want to Give Up (Free Printable) (unfadingbeautyandstrength.com)
7 Encouraging and Authentic Examples of New Years Goals (unfadingbeautyandstrength.com)
6 Delightful Ways to Focus on Your Word of the Year
8 Life Lessons God is Teaching Me in the Wait Practical Living (unfadingbeautyandstrength.com)
The Best Way to Practice Meditation
Recommended Resources and Products:
This page contains advertisements, which may allow me to take home a small amount of income at no additional cost to you. For more on this go here.
---
---