We may earn money or products from the companies mentioned in this post.
Inside: Bible Verses for When You Want to Give Up. (Free printable scripture cards)
---
Have you quit going to the gym yet? Do you even bother making New Year's resolutions?
Or maybe, like me, you made a whole list of goals and wrote them down but they already seem as out of reach as the stars.
As a Christian, we know that God's work is not complete in us and we must press on toward the goal. (Philippians 3:12)
For we are God's handiwork, created in Christ Jesus to do good works, which God prepared in advance for us to do.

Epheisans 2:10 (NIV)
As a Christian, we know that God's work is not complete in us and we must press on toward the goal. (Philippians 3:12)
Click To Tweet
Our goal as Christians is to become more like Jesus.
Everything we do is for His glory. (1 Corinthians 10:31):
What we put in our bodies.
How we love and discipline our children
Or what we say to the bully at school or work
That's a hard pill to swallow at times. The least resistant path would be to eat junk food, send my kids to their respective screens or respond in like to the bully. But I know that's not the answer.
So what are we as imperfect sinners to do?
I often don't feel equipped as an ordinary woman with no official theological training to even begin to answer this question.
And while we should listen to those with more wisdom or training, we are not all called to be a theologian, a preacher, or graduate of a Bible or seminary school.
But we are called to be students of His Word. So the best place to start is through scripture.
The more I'm in the word, the more scripture comes to mind at just the right time.
The following verses have helped me when my ordinary days feel heavy or when my prayers begin to weaken. Thank goodness I don't have to carry the burdens alone.
10 Bible Verses for When You Want to Give Up.
1. Galatians 6:9 (NLT)
So let's not get tired of doing what is good. At just the right time we will reap a harvest of blessing if we don't give up.
2. 1 Corinthians 11:1 (NLT)
And as for you, brothers and sisters, never tire of doing what is good.
3. 1 Corinthians 6:19-20: (NIV)
Do you not know that your bodies are temples of the Holy Spirit, who is in you, whom you have received from God? You are not your own; you were bought at a price. Therefore honor God with your bodies.
4. Ephesians 4: 23-24: (NIV)
to be made new in the attitude of your minds; 24 and to put on the new self, created to be like God in true righteousness and holiness.
5. Philippians 1:6 (NIV)
being confident of this, that he who began a good work in you will carry it on to completion until the day of Christ Jesus.
6. Matthew 19:26 (NIV)
Jesus looked at them and said, "With man this is impossible, but with God all things are possible."
7. Colossians 3:23 (NIV)
23 Whatever you do, work at it with all your heart, as working for the Lord, not for human masters,
8. Romans 5:4 (NLT)
And endurance develops strength of character, and character strengthens our confident hope of salvation.
9. Philippians 3:14 (NLT)
I press on to reach the end of the race and receive the heavenly prize for which God, through Christ Jesus, is calling us.
10.Proverbs 4:25 (NIV)
Let your eyes look straight ahead;
fix your gaze directly before you.
---
So whether you need:
Encouragement to keep driving to a job you hate,
strength for one more hard day of parenting,
or grace for skipping the gym again
May the word of God fill your heart with all his goodness and grace.
Lay your burdens on Christ, who took all our sins and burdens on him.
He can handle it. For he is the perfector of our faith.
looking to Jesus, the founder and perfecter of our faith, who for the joy that was set before him endured the cross, despising the shame, and is seated at the right hand of the throne of God.

Hebrews 12:2 (ESV)
As always, thanks for reading, and if you enjoyed this post I would appreciate any shares on social media.
10 Bible Verses for When You Want to Give Up (Free Printable)
Click To Tweet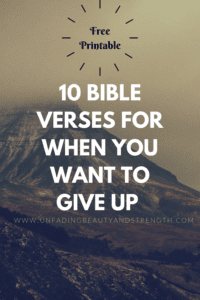 More Resources:
20 Ordinary and Practical Ways to Worship God Everyday
Sinners from the Bible that Help Us See Gods Grace: 3 Brazen Examples
Beautiful Free Printable Bible Verses – Raise Your Sword
Gods Power: 3 Incredible Examples from the Bible that Show Gods Power
Favorite Resources from Etsy
This page may contain advertisements or affiliates, which may allow me to take home a small amount of income at no additional cost to you. For more information, go here.