Inside: Bible verses about not giving up (In addition, Free printable scripture cards HERE)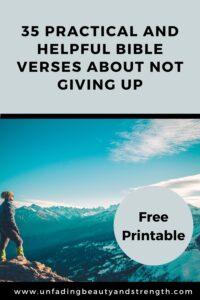 ---
So I hate resolutions.
I am not wholly anti-resolution, but in general, they're not my cup of tea.
Oh, I've tried my share of resolutions and words of the year.
Heck, I've even written about both.
And while I do think they have merit, I bristle every New Year when everybody declares this will be the year for fill-in-the-blank!
Call me a cynic, but considering National Quitter's day is January 13, I don't take much stock in resolutions.
And frankly, I'm great at making goals, but not so good with follow-through. (I am still working on that.)
I do think goals are worth your time, whether you make them in the New Year or on a random Thursday.
It's important to reflect on life to see what's working and what you can do better.
Behind all the hype, I believe in striving to be the best version of who God made me to be.
So my main goal always stays the same: Become more like Jesus.
As Christians, we know that God's work is not complete in us and we must press on toward the goal.(Philippians 3:12)
For we are God's handiwork, created in Christ Jesus to do good works, which God prepared in advance for us to do. Ephesians 2:10 (NIV)
How we love and discipline our children
What we put in our bodies.
Or what we say to the bully at school or work
But, that's a hard pill to swallow at times. The least resistant path would be to eat junk food, send our kids to their respective screens or respond in like to the bully.
But we know that's not the answer.
Obstacles will come, whether you're standing in your own way, your whole house breaks down, or that bowl of ice cream taunts you from the workplace freezer. (or maybe that's just me?)
So what are we as imperfect sinners to do?
I don't feel equipped as an ordinary woman with no official theological training to even begin to answer this question.
And while we should listen to those with more wisdom or training, we are not all called to be a theologian, a preacher, or a graduate of a Bible or seminary school.
But we are called to be students of His Word.
So the best place to start with any goal is through scripture. The more I'm in the word, the more scripture comes to mind at the right time.
But what can we read in the Bible when we feel like giving up?
In addition to the many inspiring Bible stories about not giving up, the following verses have helped me when my ordinary days feel heavy or when my prayers begin to weaken, or when I just need encouragement to keep going.
Related Reading: 5 Bible Characters Who Were Successful After Miserable Failure – Beliefnet
And thank goodness we don't have to carry the burdens alone.
35 Bible Verses About Not Giving Up
1. Galatians 6:9 (NLT)
So let's not get tired of doing what is good. At just the right time we will reap a harvest of blessing if we don't give up.
2. 1 Corinthians 11:1 (NLT)
And as for you, brothers and sisters, never tire of doing what is good.
3. Ephesians 3: 20-21 (NIV)
Now to him who is able to do immeasurably more than all we ask or imagine, according to his power that is at work within us, to him be glory in the church and in Christ Jesus throughout all generations, forever and ever! Amen.
4. Ephesians 4: 23-24: (NIV)
to be made new in the attitude of your minds; 24 and to put on the new self, created to be like God in true righteousness and holiness.
5. Philippians 1:6 (NIV)
being confident of this, that he who began a good work in you will carry it on to completion until the day of Christ Jesus.

6. Matthew 19:26 (NIV)
Jesus looked at them and said, "With man this is impossible, but with God all things are possible."
7. Colossians 3:23 (NIV)
Whatever you do, work at it with all your heart, as working for the Lord, not for human masters,
8. Romans 5:4 (NLT)
And endurance develops strength of character, and character strengthens our confident hope of salvation.
9. Philippians 3:14 (NLT)
I press on to reach the end of the race and receive the heavenly prize for which God, through Christ Jesus, is calling us.
10. Proverbs 4:25 (NIV)
Let your eyes look straight ahead;
fix your gaze directly before you.
11. 2 Thessalonians 3:13 (NIV)
And as for you, brothers and sisters, never tire of doing what is good.
12. 1 Corinthians 9:24 (NIV)
Do you not know that in a race all the runners run, but only one gets the prize? Run in such a way as to get the prize.
13. Isaiah 41:10 (NIV)
So do not fear, for I am with you; do not be dismayed, for I am your God. I will strengthen you and help you; I will uphold you with my righteous right hand.
14. Jeremiah 29:11 (NIV)
For I know the plans I have for you," declares the Lord, "plans to prosper you and not to harm you, plans to give you hope and a future.
15. Romans 8:28 (NIV)
And we know that in all things God works for the good of those who love him, who have been called according to his purpose.
16. Matthew 7:7 (NIV)
Ask and it will be given to you; seek and you will find; knock and the door will be opened to you.
17. Joshua 1:9 (NIV)
Have I not commanded you? Be strong and courageous. Do not be afraid; do not be discouraged, for the Lord your God will be with you wherever you go.
18. Matthew 11:28 (NIV)
Come to me, all you who are weary and burdened, and I will give you rest.
19. 2 Peter 3:8 (NLT)
But you must not forget this one thing, dear friends: A day is like a thousand years to the Lord, and a thousand years is like a day.
20. Philippians 4:13 (NIV)
I can do all this through him who gives me strength.
21. 2 Corinthians 4:18 (NLT)
So we don't look at the troubles we can see now; rather, we fix our gaze on things that cannot be seen. For the things we see now will soon be gone, but the things we cannot see will last forever.
22. 1 Corinthians 15:58 (NLT)
So, my dear brothers and sisters, be strong and immovable. Always work enthusiastically for the Lord, for you know that nothing you do for the Lord is ever useless.
23. Psalm 23:4 (NIV)
Even though I walk through the darkest valley, I will fear no evil, for you are with me; your rod and your staff, they comfort me.
24. Psalm 94: 18-19 (NLT)
I cried out, "I am slipping!" but your unfailing love, O Lord, supported me. When doubts filled my mind, your comfort gave me renewed hope and cheer.
25. Proverbs 3:5-6 (NLT)
Trust in the Lord with all your heart; do not depend on your own understanding. Seek his will in all you do, and he will show you which path to take.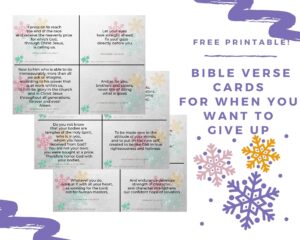 26. Proverbs 24:16 (NLT)
The godly may trip seven times, but they will get up again. But one disaster is enough to overthrow the wicked.
27. Isaiah 40:31 (NLT)
But those who trust in the Lord will find new strength. They will soar high on wings like eagles. They will run and not grow weary. They will walk and not faint.
28. Matthew 28:20 (NLT)
Teach these new disciples to obey all the commands I have given you. And be sure of this: I am with you always, even to the end of the age."
29. James 1:2-4 (NIV)
Consider it pure joy, my brothers and sisters, whenever you face trials of many kinds, because you know that the testing of your faith produces perseverance. Let perseverance finish its work so that you may be mature and complete, not lacking anything.
30. 1 Corinthians 10:13 (NLT)
The temptations in your life are no different from what others experience. And God is faithful. He will not allow the temptation to be more than you can stand. When you are tempted, he will show you a way out so that you can endure.
31. Psalm 37:23-24 (NLT)
The Lord directs the steps of the godly. He delights in every detail of their lives. Though they stumble, they will never fall, for the Lord holds them by the hand.
32. Romans 12:12 (NIV)
Be joyful in hope, patient in affliction, faithful in prayer.
33. Ephesians 2:10 (NLT)
For we are God's masterpiece. He has created us anew in Christ Jesus, so we can do the good things he planned for us long ago.
34. 1 Peter 3: 17 (NIV)
For it is better, if it is God's will, to suffer for doing good than for doing evil.
35. Psalm 55:22 (NLT)
Give your burdens to the Lord, and he will take care of you. He will not permit the godly to slip and fall.
---
This page may contain advertisements or affiliates, which may allow me to take home a small amount of income at no additional cost to you. For more information, go here.
---
So whether you need:
Encouragement to keep driving to a job you hate,
Strength for one more hard day of parenting,
Or grace for skipping the gym again
I pray these Bible verses about not giving up have encouraged you.
May the word of God fill your heart with all his goodness and grace.
And finally, lay your burdens on Christ, who took all our sins and burdens on him.
He can handle it. For he is the perfector of our faith.
looking to Jesus, the founder and perfecter of our faith, who for the joy that was set before him endured the cross, despising the shame, and is seated at the right hand of the throne of God.

Hebrews 12:2 (ESV)
And as always, thanks for reading, and if you enjoyed this post I would appreciate any shares on social media.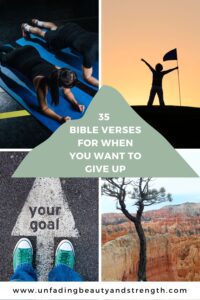 And More Resources for When You Want to Give Up:
This page may contain advertisements or affiliates, which may allow me to take home a small amount of income at no additional cost to you. For more information, go here.
In addition, You may also enjoy:
***Original Post: Bible Verses About Not Giving Up was January 28, 2022, and Updated January 2023
The form you have selected does not exist.