We may earn money or products from the companies mentioned in this post.
Inside: 7 Encouraging and authentic examples of New years Goals 2022.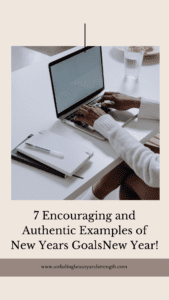 I resisted writing New Years Goals this year.
My goals are always the same:
Improve my marriage,
Quality time with God and family,
Improve myself, etc…)
So what's the point?
Let us not become weary in doing good, for at the proper time we will reap a harvest if we do not give up.

Galatians 6:9 (NIV)
The point is we don't give up.
We've never been told life was going to be easy.
Making change and meeting goals is hard.
If it wasn't there wouldn't be a National Quitters Day (January 14th if you're curious), and there would be no need to even discuss New Years Resolutions.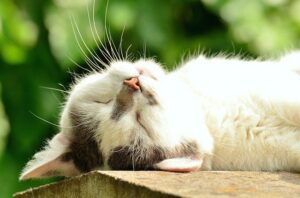 We all want change; we all want to improve some aspect of our life. At least at some point.
Be it exercise, eating healthier, or not sprinting to our desks looking like a two-year-old dressed us.
So I wanted to share my goals with you in part because I want my goals to be more than a cliche. And I need accountability.
But also, maybe it will inspire you to keep reaching for your goals and dreams.
Failure is only the opportunity to begin again more intelligently.

Henry Ford
In the past couple of years, I have written a post on my word of the year and while I think that is a great concept, I felt like I needed to be more intentional this year.
A word of the year may be the best route for you, so check out the below posts for encouragement.
Previous New years Posts:
2021: Encouragement to Persist With Your Word of the Year (unfadingbeautyandstrength.com)
2020: 6 Delightful Ways to Focus on Your Word of the Year – Unfading Beauty and Strength
2022 Goals:
My purpose is not to be 100 percent perfect, but rather to strive to become more like Jesus in everything I do.

And you should imitate me, just as I imitate Christ.

1 Corinthians 11:1 (NLT)
1. Health: Lose 25 pounds
Don't you realize that your body is the temple of the Holy Spirit, who lives in you and was given to you by God? You do not belong to yourself, for God bought you with a high price. So you must honor God with your body.

1 Corinthians 6:19-20 (NLT)
My ultimate goal is to maintain a healthy lifestyle so I can annoy my kids for years to come. 🙂 (If God so blesses me.)
My plans to get there include:
Eating

plant based diet 90% of the time.
Increase my fiber consumption to 55 grams/day. (Can only be done by eating more plants).
Eat fruit/veggies as snacks.
Eat a side salad or full salad with lunch and dinner.
Sleep 7.5 hours/ night.
Exercise three times a week.
I've been eating mostly plant-based since February 2021. I have lost between 20 and 25 pounds so far, so this is not new for me. But I do feel like I'm stuck on a plateau.
And after the holidays, my plate has been filling back up with my previous unhealthy foods.
2. Family:
The wicked die and disappear,
but the family of the godly stands firm.

Proverbs 12:7 (NLT)
Have a date night with each kid once a month.
Weekly allowance for the kids.
Read six family chapter books.
Have a family fun day once a month.
Short Bible devotional at least once a week.
3. Marriage:
For the believing wife brings holiness to her marriage, and the believing husband brings holiness to his marriage…

1 Corinthians 7:14 (NLT)
Pray together and have a quick daily date every night.
Read six books together
Finish Jill Savages Marriage Class purchased in 2021
Date night once a month (every other month out of the house)
Financial meeting once a month
This category may prove to be the most challenging for us as we are not consistently doing any of the above. But that's all the more reason to include the goals.
Below are a few of the resources I plan on implementing:
No More Perfect Marriage Playbook – Mark and Jill Savage
150 Couple Conversation Starters That Will Make You Feel Closer Than Ever (happyyouhappyfamily.com)
4. Spiritual:
Instead, let the Spirit renew your thoughts and attitudes. Put on your new nature, created to be like God—truly righteous and holy.

Ephesians 4: 23-24 (NLT)
Pray every day
Research Bible study to go through (thinking about She Reads Truth), and finish the study.
Start participating in a Wednesday night class at church. (Our church is starting a mariage class Im excited to begin, plus it counts toward my marriage goals too! Two birds with one stone… BAM!!!)
Find a way to volunteer either with my church or community.
Continue to write in gratitude journal every night.
If you have any suggestions in regards to a Bible study, I'd love to hear them in the comments below.
5. Personal
6 And I am certain that God, who began the good work within you, will continue his work until it is finally finished on the day when Christ Jesus returns.

Philipians 1:6 (NLT)
Read 62 books (five a month). I read 57 with a goal of 60 last year so this is my way of pushing myself a little further.
Research and develop cleaning/declutter routine. My house is in a constant mess stifling my creativity and joy.
Work on conflict resolution skills (One thing Ive always been afraid of or not very good at is conflict. I have strong emotions and feelings that I dont always handle in a productive manner.
Learn Spanish (Complete Duolingo

Course)
6. Financial: Increase Savings and Pay off Final Debt
8 Owe nothing to anyone—except for your obligation to love one another. If you love your neighbor, you will fulfill the requirements of God's law.

Romans 13:8 (NLT)
As many of you know my husband lost his job last April, so these goals have been put on hold.
And these goals are dependent on each other:
Pray over new job.
Once job situation is more secure, start putting extra income towards last debt.
Increase savings to three to six months of living expenses.
Plan future financial needs. (new house, college savings, etc…)
And not dependent on these steps:
Finish financial class purchased in 2021. (Maybe my word of the year should be Completion, as I'm beginning to see a pattern…).
7. Website: Make $500 /month.
But with God everything is possible.

Matthew 19:26 (NLT)
While this may seem audacious (and nothing to others), I wanted to push myself. I believe God can do extraordinary things, but only if we let go of our own expectations and control and let God.
Some ways I plan to reach this goal:
Increase social media presence
Create digital product(s)
New post at least once a month
New video at least once a month
Research and apply for affiliate posts
Guest posts six times/year
Increase email subscribers
Complete product course every other month
I believe God can do extraordinary things, but only if we let go of our own expectations and control and let God.
Click To Tweet
---
I hope to revisit my goals with you throughout the year. My hope and prayers are that at the end of 2022 I will see more of God and less of me through my goals and ultimately only through God's power.
Work willingly at whatever you do, as though you were working for the Lord rather than for people.

Colossians 3:23 (NLT)
What about you? Do you set New Year's goals or a word of the year? Or do you resist and procrastinate like me? What inspires you to keep dreaming? Share in the comments below. I'd love to hear.
As always, thanks for reading. If you enjoyed this post I would appreciate your shares on social media.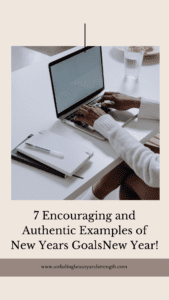 Related Reading:
10 Bible Verses for When You Want to Give Up (Free Printable) (unfadingbeautyandstrength.com)