Guest post by Amy: Hope is the Thing with Feathers
**Inside: A Story of Comfort for When You've Lost a Baby from a mom who has been there.
---
This page may contain advertisements or affiliates, which may allow me to take home a small amount of income at no additional cost to you. For more information, go here.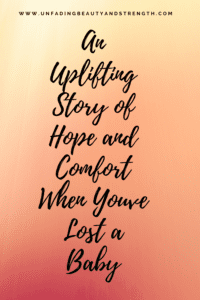 "Two-thirds of infant deaths in the U.S. occur within a month after birth."

https://www.healthsystemtracker.org/chart-collection/infant-mortality-u-s-compare-countries/#item-
For women who know they're pregnant, about 10 to 15 in 100 pregnancies end in miscarriage.

https://www.marchofdimes.org/complications/miscarriage.aspx
From the moment you become pregnant,
You become aware life is about so much more than yourself.
The gentle pounding of your baby's first heartbeat,
Butterflies tickling your belly,
The downy head against your bare skin for the first time
Nothing can compare.
The moments with your baby in the nine months of pregnancy are magical, awe-inspiring, and life-changing. Those moments begin from the time you see the positive result on that tiny little stick. (Fear and trepidation exist in those moments as well.)
You carry a child inside your body, but even more profound is the child you carry inside your heart and soul, and you know you will never be the same.
So when you've lost a baby or child a piece of your heart is broken. Time may make the pain more bearable, but a part of you will always, always remember.
I haven't experienced the grief of losing my babies, so I can't even imagine the pain so many women bear. Just the thought of losing one of my babies brings me to tears.
However, Let me introduce you to a friend who has experienced the grief that can only come from when you've lost a baby.
While sadness and grief may be shared, I also hope her story helps you find solace. If only for a moment.
For we are stronger when we are together.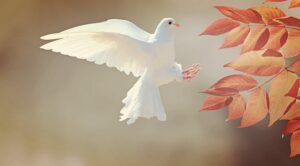 Amy wrote this post in 2016 during the catastrophic flooding in Louisiana.
She has graciously shared her story for Infant Loss Awareness Month in hopes of lifting others up during a time of insurmountable grief.
Hope is the Thing with Feathers
Guest Post: Written by Amy Leblanc
This weekend, I sat in my cool, dry comfortable living room and watched on my phone through multiple Facebook posts as friends, family, and many complete strangers lost every physical item they owned. Houses were ruined, vehicles were flooded, beloved pets were lost. People were stranded in their cars for over 24 hrs.
I was born and raised in Louisiana and have stayed to raise my family here. It felt like déjà vu as my beloved North Louisiana endured extreme flooding this spring, and now, four months later, South Louisiana is being hit even harder.
My heart is heavy.
I'm depressed and so so sad. The loss my state has seen in the past six months is unbelievable. Right now, people are in a state of shock and survival, but soon, as the waters begin to recede, the loss will set in. Loss of physical things, loss of the comfort of home, loss of memories as pictures and videos will be unsalvageable.

This morning I asked my kids to pray for their aunt, my sister, and her family, and her in-laws. My son told me that he didn't know her in-laws so he was going to leave that up to the adults. But then he thought about it a minute and said that he guessed he could pray for them too.
When we're young, we don't think much about loss.
We imagine that we grow up, marry a wonderful person, have a few kids, live in a fancy house, and stay that way indefinitely. A tapestry knit together by a perfect thread to create an unchanging picture.
Who knew that you never actually feel like you've arrived at that place and that things are constantly changing? That the threads, if you ever get something woven together, can just as easily unravel?
Many times our lives are shaped, sometimes defined, by one or several major losses.
Divorce, death of a parent, death of a child, a fire, a flood, major illness, infertility, addiction, and disability are all things that have affected many of us.
I struggled with infertility for several years before we became pregnant with twins. Twins I thought! This is the reward for all my prayers and heartache. I prayed for the safety of these little people on my way to work. I prayed prayers of thanksgiving and love before I went to bed. Our hope for our family had been restored. We found out we were having a boy and a girl. Exactly what I was hoping for. We picked out names and furniture. I saw specialty doctors and got an ultrasound at every visit.
Then one night just about 22 weeks along,
I woke up with weird pains and told Jay to take me to the ER. When we got there, I was having contractions every five minutes. They put me on medicine to try to stop the contractions and hooked me up to the monitors. When the contractions had only slowed down a little, they rushed me to the nearest NICU hospital by ambulance.
There, they gave me more medicine and practically had me lying upside down on the hospital bed. My water had not broken and they kept me in this state for a week and a half.
About ten days in, the pain of contractions was so bad, they gave me an epidural. This helped with the pain and the stress on my body, but they warned me it couldn't go on indefinitely. When this epidural wore off, the pain once again became incredibly unbearable and they gave me another epidural. This one, though, wore off in a matter of hours and I awoke again in the middle of the night in extreme pain, with pure dread that this would go on forever.
We called my doctor in and decided to take the babies by C-section. This would give them the greatest chance of survival, although I would forever have to have a C-section after, due to the way they would have to cut to get to the babies.
When they took the babies, I remember not hearing them cry and one of the attendees saying it was the smallest baby he had ever seen. They each only lived a few hours.
As women, we tend to blame ourselves for many things. If only we could be stronger, skinnier, smarter, braver, our lives, and those around us, would be better.
I still have thoughts, that if I had been stronger, if I could have endured longer, I might have my babies today.
But the thing is, even if it's true, it's not what happened. The reality is that my twins are buried in a cemetery next to their great grandparents. But that's not the whole reality.
The other part is that while their bodies may be there, their souls are in heaven, waiting to meet the rest of their family one day. This is the hope that I have through Jesus Christ. Hope is the antidote to loss. Through our grief, Jeremiah 29:11 carried me through:
"For I know the plans I have for you", declares the Lord, "plans to prosper you and not to harm you, plans to give you a HOPE and a FUTURE."

When you're going through a tragic loss, whether it's similar to my story or the flood victims, you're just trying to make it through the day, maybe the hour. This verse reminds me that God wants the best for us. He sees the whole story and His will is for us to have a prosperous future.
So grieve, grieve hard for things you have lost. Acknowledge your loss and how it has affected you and will continue to affect you. But through it all, don't forget to also hope.
Emily Dickinson wrote,
Hope is the thing with feathers-
That perches in the soul-
And sings the tune without the words-
And never stops- at all-
Hope for a better future, hope for comfort and healing, and remember you are not alone. You are the child of a most loving Father; His arms are around you and He loves you and has set up communities to help you on this earth.
Your family and your church family are full of people who want to help you, emotionally and physically. In times of great need, don't hesitate to reach out to those who can help you, and once you have made it to the other side of this tragedy, try to give back by helping others around you.
Closing Thoughts:
I have known Amy for my entire life. We have been friends from as far back as I can remember. Elation filled my soul when I found out she was pregnant.
I also remember the day she lost her babies. I don't remember the exact day or how I even found out. We didn't live in the same town at the time and while still good friends, we didn't converse every day.
But I remember the day with anticipation, hope, and dread. Upon hearing the heartbreaking news, I felt heavy and broken.
I also felt powerless. The only thing I could do was pray and send flowers, which seemed meaningless and trivial at the time.
Of course, prayer is never powerless, even if we don't see the results, and the smallest of gestures can make the biggest difference.
If you know somebody going through a loss or you have lost a baby, don't negate the power of prayer or the power of a kind gesture.
And if you found this story encouraging, please share. You never know who might need it.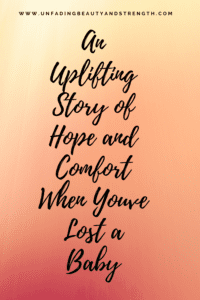 Thanks for reading as always.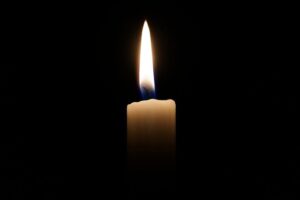 Related Articles and Resources:
How to Help a Friend After a Disaster: 4 Key Takeaways to Know
How to See God When Life Is Overwhelming You
Choices: A Place to Turn When Faced With an Unexpected Pregnancy
Gift ideas that may encourage someone who has lost a baby:
**As an Etsy affiliate, I may earn a small income from the below links at no extra cost to you.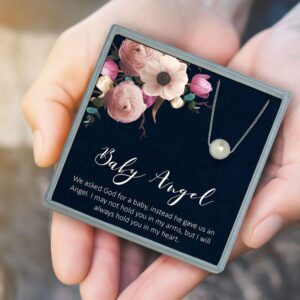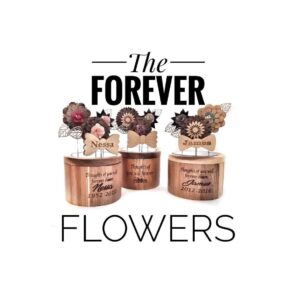 This page may contain advertisements or affiliates, which may allow me to take home a small amount of income at no additional cost to you. For more information, go here.