Inside: How to Show Grace Every Day: 9 Tips and Practical Ways
How can we show grace to each other and ourselves every day!?
And, what is grace anyway?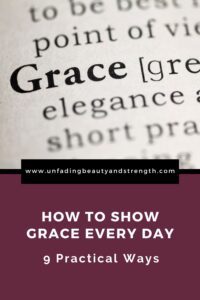 Besides the fact that grace is something I have to give myself and my family every single day, whether:
I had one too many cookies,
slept in ten more minutes than I intended,
or a whole bag of jelly beans was dropped on my floor…
Related: Showing Grace: A Genuine Devotional When Your Day Seems Hard
The idea of grace carried with it the sense of undeserved kindness or approval or acceptance. In other words, charis carried with it the sense of an unmerited or undeserved favor or attitude of kindness. It was regarded as the active expression of unselfish aid or help. The famous Greek philosopher, Aristotle, defined the word in this way. He said:

"Grace was helpfulness towards someone in need, not in return for anything, nor that the helper may get anything, but for the sake of the person who is helped."

Part 1 – What is Grace? by David Guzik (blueletterbible.org)
Merriam-Webster defines grace in many ways, including:
approval or favor
a special favor: privilege
mercy or pardon
So in summary,
Grace is giving kindness or a need to an undeserving person without expecting anything in return and for the good of that undeserving person.
Whew, wow, that is a big pill to swallow.
And yet who offered the most amazing gift of grace to us, an undeserving people?
Jesus
Jesus died for me and for you. He sacrificed his life as the ultimate gift of grace and mercy.
The more I learn about God's character the more I realize just how undeserving I am of that grace.
For you may be on a mountain and I may be in the valley, but we are both equally unable to reach the stars.

So when deciding how to show grace, we must always look to Jesus first.
But still, showing grace to others is a daunting task and yet if our goal is to become more like Jesus, we can't overlook the grace component.
So I hope the following will offer some practical ways to show grace in our ordinary lives.
But, before we dive into the tips on how to show grace,
Let's consider three situations where we might need grace for ourselves and/or others.
Or, these are at least the areas I flounder with the most and I am hoping I am not alone.
1. Driving
Ahem, is anybody else a recovering road rageaholic? But when you begin to practice grace, it's amazing how much more peaceful your drive can be, even when the 5th person cut you off.
2. Homework battles
If you're a parent of school-age children in this crazy world of Covid homeschooling, common core, and stubborn children then you can feel me on this one.
May I gently remind us of our own battles with homework and practice grace with ourselves, because no, I don't know what strategy you're using nine year old, let me show you how to carry the one. (Is anybody else really thankful for YouTube!?)
And know that the expectations/pressures for our children these days have increased.
Let's face it, school, like much of life, is hard!
3. And finally, Marriage
How many times do we practice forgiveness and grace in our marriages? My mantra this year has been, it's not wrong, just different.
And yet our marriages should be a light for Christ and an example of unity. Which means forgiveness and grace every day.
God calls us to forgive, he tells us to forgive seventy times seventy, in other words, countless times.
Then Peter came to him and asked, "Lord, how often should I forgive someone who sins against me? Seven times?" "No, not seven times," Jesus replied, "but seventy times seven!

Matthew 18: 21-22 (NLT)
That's not to say we don't place boundaries and require respect, which sometimes demands hard conversations.
But it does mean that we do need to forgive the socks being left on the counter, buying that extra soda that wasn't in the budget, or falling asleep before we have a chance to talk. (Or maybe I just need to relinquish control?)
Of course, there are many other situations in which we may find ourselves angry, sad, overwhelmed, irritated, and frustrated, just to name a few common emotions I experience on a weekly basis.
This is all the more reason we need to know how to practice grace.
Now, finally, here are 13 practical ways on how to show grace in any situation.
1. Memorize/Meditate on Bible Verses
I will forever advocate Bible verses, for they are the sword of truth, and if you have verses committed to memory, then you're more prepared for Battle.
And we are at battle.
For we are not fighting against flesh-and-blood enemies, but against evil rulers and authorities of the unseen world, against mighty powers in this dark world, and against evil spirits in the heavenly places.

Ephesians 6:12 (NLT)
Related Resources:
10 Encouraging Bible Verses About Showing Grace To Others. – Daily Bible Verse Blog (jollynotes.com)
10 Verses About Grace — walk in love.
2. Daily Prayer of Confession/Ask for Forgiveness
So, I didn't grow up stating a confession in church. But the church I attend now cites a formal confession, followed by a silent confession.
Whether your church practices a formal confession or not, we are called to confess our sins.
Related Resource: 14 Bible Verses about Confession of Sin – DailyVerses.net
And certainly, when I confess my sins, I can rest in the assurance of Christ.
let us draw near to God with a sincere heart and with the full assurance that faith brings, having our hearts sprinkled to cleanse us from a guilty conscience and having our bodies washed with pure water.

Hebrews 10:22 (NIV)
But if you need a formal confession of sin to get you started, then consider the following:
Merciful Lord,
We confess that with us there is an abundance of sin, but in You there is the fullness of righteousness and abundance of mercy. We are spiritually poor, but You are rich. Therefore, Christ came to be merciful to the poor and to show us the immeasurable riches of Your grace. Strengthen our faith and trust in You. We are empty vessels that need to be filled; fill us. We are weak in faith; strengthen us. We are cold in love; warm us and make our hearts fervent for You that our love may go out to one another and to our neighbors. Through Jesus Christ our Lord. Amen.
3. Sing Songs
Music, for many, speaks to the deepest ravines of our souls.
Maybe you already have a song in mind, but if not, I'll share one of my favorites. It's very simple, which makes it easy to remember. 🙂
God will make a way when there seems to be no way. He works in ways we cannot know. He will make a way.
I used to sing this nightly to my children and it's the first song that pops into my head when I feel overwhelmed, which is often.
Your song doesn't have to be complex, it doesn't even have to be a known song, it just needs to matter to you.
4. Talk to Someone
Maybe this is your spouse, a family member, or a trusted friend.
Be careful to not fall into the venting trap. Venting has its place sometimes, but our goal is to move past the anger/resentment and get to grace. Like a hamster on a wheel, we can find ourselves stuck in the venting phase. Which, like the hamster, will get us nowhere while zapping all of our energy.
So choose your friend wisely. And then listen when they give you advice. (Of course, sometimes you just need to get your thoughts off your chest and not spew all over your family and that's ok too.)
And for the love of your marriage, do not vent to your parents about your spouse. (That will not end well.)
5. Relaxation exercises
In order to get to grace, we may need to calm ourselves. Emotions are there for a reason, but we are to control our emotions, not the other way around.
My dear brothers and sisters, take note of this: Everyone should be quick to listen, slow to speak and slow to become angry,

James 1:19 (NIV)
When I think of relaxation exercises I conjure up images of a hippie doing yoga on their head and doggie yoga. That's okay for the crunchy mom or celebrity, but it seems out there and unrealistic for the rest of us ordinary people.
But Im not one to not knock things til I try them and I have found a few exercises that have helped my daughter and me, despite my surprise and initial resistance.
Rainbow colors or five senses:
Find things around you with either the colors of the rainbow or your five different senses. The whole point of course is getting your mind off the events before things escalate to the heights of Mount Everest.
Other exercises that have worked for us:
humor
taking a walk
stepping outside
and deep breaths (Although I don't think I take enough deep breaths sometimes.)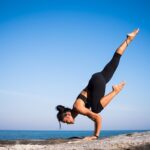 6. Reset expectations.
Once you've got yourself to relax, ask yourself three questions:
1. Am I contributing to the problem?
You've probably heard the phrase, there are three sides to a story: Yours, mine, and the right one. Now, this is not to say that discussions don't need to happen, but we need to recognize our part in the situation. And if we are honest with ourselves, we have played a small portion.
2. Is there something I can change or do to reset the mood (your tone, body language, etc…)?
My husband and I at times will try to insert a nonsense word when the temperature is rising. Sometimes it works, and sometimes one or both of us is being too stubborn.
3. Am I being unrealistic?
In the case of our family on the first week back at school, we had not set expectations about homework for various reasons.
And the calm sea warped into stormy waves faster than a steel rollercoaster.
But that wasn't all my kid's fault.
So many times our expectations are not realistic, either for ourselves or others.
7. Read and Study
What better place to find stories of grace than the Bible? You could argue the whole book is about God's grace and mercy.
A few of my favorite stories include Jonah (Jonah 1-4), Hagar (Genesis 16: 6-14), and Gideon (Judges 6).
8. Change the environment.
Sometimes you need to walk away or figure out a way to reduce tension before the volcano erupts.
Go for a walk
Jump in the shower,
Apply a little elbow grease on the dishes.
We just need the change in environment to reset the situation sometimes.
9. Pray
Last but not least.
God tells us to pray without ceasing, and with prayers and thanksgiving to give all our cares to him.
My friend, Let go and Let God.
Finally, I'll end with words from the book, Unoffendable:
God knows how we're wired. He tells us to forgive and to get rid of anger. People made in His image would do well to listen. It means everything, not just for us but for those around us.

He is promising a better way of life. hes holding it out to us saing, Hand over the garbabe and he means it because he loves and he has something better to offer.

He is offering peace.
So my friend, as you bend down to help your child pick up jelly beans, may God's grace and peace be with you.
As always, thanks for reading. If you enjoyed this post, I would appreciate your shares on social media.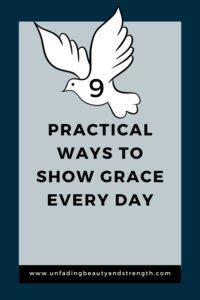 You May Also Enjoy:
Related Resources/Gifts:
This page contains advertisements, which may allow me to take home a small amount of income at no additional cost to you. For more on this go here.