Pregnancy and motherhood are debatable, hot subjects.
Everybody has an opinion, a judgment, a story. Everybody thinks they can give you advice on everything from the clothes your kids should be wearing to how you should discipline them.
Here is what they do not tell you.
Parenting is HARD.
Freaking hard! (Okay, so maybe they do tell you this, but you think you got it all under control and it will not be that bad for you!)
P.S. We moms who have been a parent for more than a minute are laughing at you who may say this because it will be you who gets it the worst!
Sweet revenge! (Joking!)   Joking aside, here is the hard, cold truth.
Parenting is the hardest thing I have ever, ever, ever done in my life, and no, you will not understand until you become a parent.
1. Birth plans are for you only.
Write it in PENCIL. You may very well follow yours to the tee, and I really do hope that will be the case.  Just be aware, that the "plan" will very likely change.
You may change your mind. The baby may make you change your mind.
Either way, pregnancy is unpredictable. The best plan you have is prayer. 
My first child was completely natural childbirth (my plan). I started feeling minor contractions at 7 am Friday morning. She was not born till 5 PM the next day.
My second child shot out in a matter of mere hours in comparison and I did want some pain medicine! Maybe I'll share my birth stories another time. 😉
2. After pregnancy, you may have sweats and hormonal imbalances.
While you think this sounds casual and it might be for you, it was not for me. I had read tons of books on the subject of birth, but I stopped once I got to the birth part. 
You sweat, a lot!
It's perfectly normal.  I also cried for no apparent reason after both my children's births.
3. Not every child will follow the book.
This one is hard for me. I am a rule follower. I like things to be predictable.
I love to read and I have found several books on parenting to be helpful (see bottom for links!).
I have also realized that no kid fits in a perfect box. Not every type of discipline will work for every child.
I live in the south, so spanking is still an acceptable form of discipline. I am not arguing for or against the matter at this moment, but if I spanked my child for everything people say I should spank her for, her little bottom would bear the marks.  As it is, the time out chair is often kept warm.
4. Your child will probably, at one point or another:
Hit you, scream at you, strip down in public, knock down an entire row of food or rack of clothes at some point, or fill in the blank!  Only some of these instances are from personal experiences. 🙂 
One time my daughter hit me right at the checkout line in front of what felt like a million people. Then she proceeded to laugh, multiple times. Picture me completely mortified and speechless.
5. You will, at times, not like your children.
Now I know there are sainthood moms out there who love their kids all the time and are always patient and loving, and gracious, yadda, yadda, ya. 
This blog is not for them.
Do not get me wrong, I love my kids, but I have been blessed with not one, but two, stubborn children.
I honestly do not know where they get it, really. (sarcasm intended) 
God must have thought I needed to learn more patience because they definitely know how to test my patience.  They are quite honestly, brats sometimes.
And trust me, we discipline and talk and lecture. We look for teachable moments. We do all the things that good parents are supposed to attempt to do.
Trust me, it is not for lack of trying that they are not compliant to my idealized moralistic standards for a 5-year-old and 2.5-year-old. There are many days, I am counting the hours till bedtime. Oh, how true it is: "The years are short, but the days are long."
6. You will become angrier then you realized you could ever be.
An old friend once said, "When I married, I realized how selfish I was. When I had kids is when I realized how angry I was." 
So true, friend. So true. 
You will be completely calm and feeling rational and calm and loving and all that mush. Then one of your kids will put their nasty shoes on your pillow and you may overreact and yank the shoes off, perhaps jerking the little tyke a tad too hard, and throw the shoes in indignant righteousness across the room to prove your dismay.
Aah, human emotion. Alas we are not perfect.
If you are appalled at the above. I am truly sorry.
My goal is not to terrorize, but merely to let you know you are not alone.
Partly, because I really hope I am not alone, and partly because I know I am not alone.
And truly if you have your life under control, please share your tips, because I can assure you my life is crazy and I will take all the help I can get.
Thankfully, I have confidence that I have help from our heavenly Father above, because by His grace, surely I could not do it alone.
I'll end with the following prayer/song:
Please help me God, I need your love every day.   Oh, how I need thee every hour.
But he said to me, "My grace is sufficient for you, for my power is made perfect in weakness." Therefore I will boast all the more gladly of my weaknesses, so that the power of Christ may rest upon me. For the sake of Christ, then, I am content with weaknesses, insults, hardships, persecutions and calamities. For when I am weak, then I am strong. 2 Corinthians 12: 9 -10 (ESV)
Please share if you feel led or inspired! Check out my list of personal favorite books below! (P.S. Full disclosure, I get a small commission from the below links)
Related Articles:
How to Deal With a Horrible First Day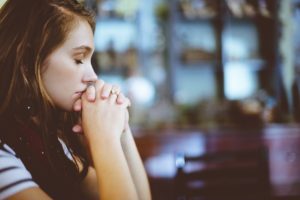 My personal resources that I have found helpful: