Introduction:
I love all things fall. I only wish it felt like fall here in the south where we are having record breaking heat. At any rate, I will not let the heat spoil my love for this season.
It is by far my favorite, favorite, absolute favorite season. For so many reasons!
I love pumpkin patches, all hot drinks, jumping in the leaves, the brisk fall air, pulling out my boots and sweaters, but not necessarily my thick coat. I love the colors in the mountains. I love "fall colors" burgundy, orange, deep maroons and greens. ah, yes, it is safe to say, Fall is my all time favorite season.
I love apple picking, getting ready for thanksgiving, Halloween, and I love bonfires and hiking.
Autumn was even often on my mind when I thought of names for my kids. 🙂
I do digress, as this post is about a book! Coincidentally the book takes place in the fall!
Fall also provides me with warm memories, such as the fall fair we always went to when I was child, my birthday, jumping in the leaves, carving pumpkins with my dad, and curling up on the sofa or next to a fire to read a good book and now reading to my children in the same way.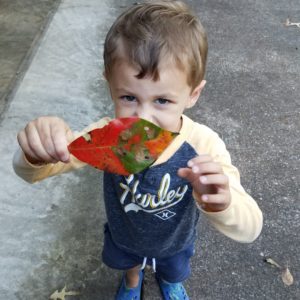 The Book
One of my favorite books to read to my children is the Pumpkin Patch Parable. (A gift from my sister who knows my love of great lessons from books. ) It is a fun and simple parable story with many great life lessons.
What is a parable?
Merriam Webster defines it as: "a usually short fictitious story that illustrates a moral attitude, or a religious principle.
The Pumpkin Patch Parable has multiple principles!
Liz Curtis Higgs, author of more than two dozen books, takes a simple tradition of Halloween and turns it on it's head with a sweet and uplifting perspective. From talking about seeds and growth to being a light to everybody coming in all shapes and sizes, oh this story has so many lessons!
P.S. I was excited to see that the author had a website and other books that I will be adding to my Goodreads wish list!
4 Simple Lessons
Lesson #1:
We all start out as seedlings, some smaller then others. In order to continue to grow we must continue to tend to our own lives, just like for a seed to grow, you must tend to it daily. Some seeds take longer then others to grow, but when planted correctly and tended to constantly, they will grow.
God is being patient with you. He does not want anyone to be lost. He wants everyone to change his heart and life.

2 Peter 3:9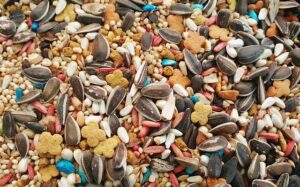 Lesson # 2:
There are countless types of seeds, just like there are countless types of people. Like the pumpkins in our short children's story, we are all different, but we were all made in God's image.
My hand made all things. All things are here because I made them, says the Lord.

Isaiah 66:2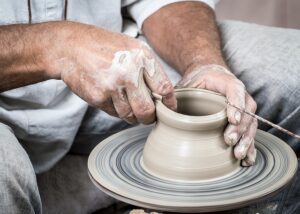 Lesson # 3:
God has a plan for each and every one of us. Like the farmer in our story, God has to clean out our insides. Some of us may feel like we are messier then others, but we are all full of sin. God cleans us with His purpose in mind. Sometimes we may have to be cut more in order to be open to his plan, but the plan is there. As the story beautifully illustrates, when we allow to God to purify us and take our sins away to the compost pile, then we open our hearts and lives to something even more exciting.
"For I know the plans I have for you," says the Lord. "They are plans for good and not for disaster, to give you a future and a hope."

Jeremiah 29:11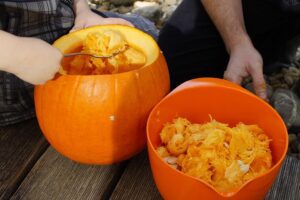 Lesson # 4:
Like our pumpkins that we carve for Halloween, and like the farmer in the story, we put a light in our pumpkins so that others can know God's love.
The light our Heavenly Father provides never burns out. God offers us a continual burning chance to shine, like stars, for all the world to see.
In the same way, let your light shine before others, that they may see your good deeds, and glorify your father in Heaven.

Matthew 5:16
In the same way, God the Father offers his children the chance to be made new, full of joy and full of light, shining like stars in a dark world.

Pumpkin Patch Parable
Conclusion:
As Halloween approaches and you prepare for the festivities by buying candy, carving pumpkins, enjoying the weather Autumn often provides, dressing up as a favorite character, I pray you enjoy a safe and enjoyable time.
But always remember to whom you belong. God knows your true character. You can never hide from him. His desire is to come into your life and be a light to guide you. To be a light that will never burn out.
If I can pray for you, please send me a message here. Prayers will always be kept confidential.
Go out into the world and be a light.
Thanks for reading as always! Sharing is Caring! Comment below with your favorite Parable!
Resources from this post:
You can find more parable stories by the author HERE.
** As an Amazon Associate I earn from qualifying purchases.
This page may contain advertisements or affiliates, which may allow me to take home a small amount of income at no additional cost to you. For more information, go here.